Cairo hosts a Hamas delegation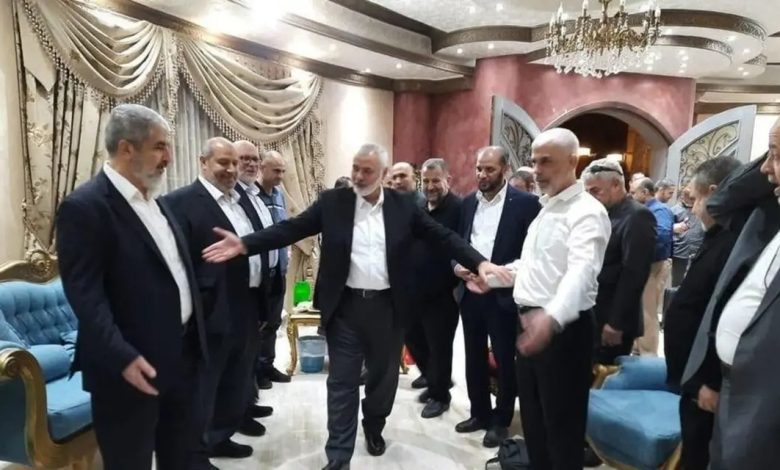 Palestinian sources announced on Sunday that the Hamas delegation headed by Ismail Haniyeh has completed its arrival in Cairo, where the first meeting of the Political Bureau will be held in the presence of all regions.
The sources told Al Arabiya.net that the movement's first meeting for the new political office, which includes the three regions: Gaza, the West Bank and outside Palestine, will be in Cairo, adding that the movement seeks to rely on the Egyptian role and intensify its discussions in the presence of all its leaders with senior Egyptian officials regarding The calm in Gaza and the prisoner exchange and reconstruction deal.
This comes hours after statements by Hamas spokesman Hazem Qassem, in which he confirmed that the movement's delegation headed by Haniyeh arrived in Cairo to hold talks focused on bilateral relations with Egypt and developing them to serve the interests of the Palestinians.
He pointed out that the file of the prisoner exchange deal witnessed the presentation of many ideas by several delegations that came to the sector, stressing Egypt's role in the files related to the deal.
The spokesman stated that the talks included files related to improving the humanitarian situation, easing the Israeli siege on the Gaza Strip and reconstruction, stressing the importance of the Egyptian role in the steps to ease the siege.
It is noteworthy that Egypt had announced hosting the meetings of the Palestinian factions last June to discuss pending files and reach consensus on them, in preparation for the completion of reconciliation, ending the division, unifying the Palestinian ranks and agreeing on the mechanisms for the reconstruction of Gaza. However, it decided to postpone to give the factions an opportunity for consultation.
At that time, Egypt decided to give the factions more time to consult and reach understandings about differences related to root files, which the Palestinians consider the cause of divisions, including the status of the Palestine Liberation Organization and the elections.