Turkish regime targets ​opposition deputies in Parliament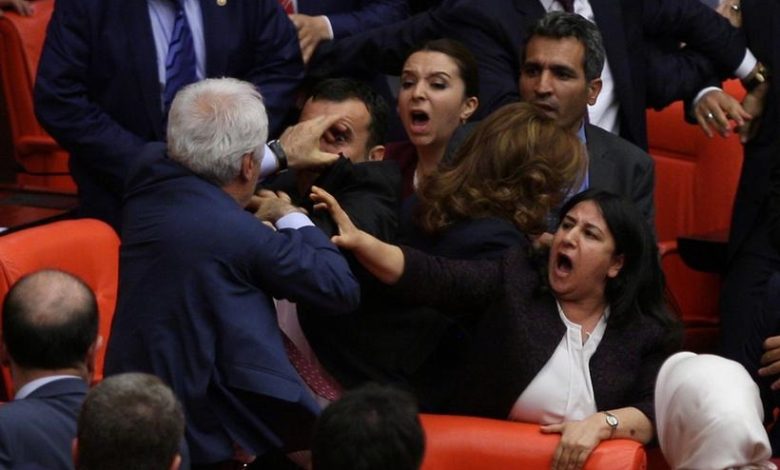 Turkish regime presidency filed new motions on Wednesday against four opposition deputies to lift their parliamentary immunities before the first week of the new legislative year is through.
Three of the four deputies, Meral Danış Beştaş, Hüda Kaya and Garo Paylan, are members of the pro-Kurdish Peoples' Democratic Party (HDP), while the fourth, Saliha Aydeniz, is from HDP's sister Democratic Regions Party (DBP), Diken news website reported on Tuesday.
The motions would need to be voted on in Parliament before the immunities are lifted. As of September 30, there were 1359 summaries of proceedings in the Parliamentary Commission for Justice against mostly opposition deputies, as announced by Parliamentary Speaker Mustafa Şentop.
In February, there were 955 summaries against 59 HDP deputies, according to state-run Anadolu Agency. Three of the 59 deputies lost their status as members of parliament in the previous legislative year. DBP's Saliha Aydeniz had 54 summaries against her.
Several deputies, including former HDP co-chairs Figen Yüksekdağ and Selahattin Demirtaş, have faced prison sentences after they were stripped of their immunities. Main opposition Republican People's Party (CHP) deputy Enis Berberoğlu is among the few deputies who faced the same fate but was not related to pro-Kurdish political movements in the country.
Summaries of proceedings are prepared by prosecutors as they conduct investigations into lawmakers. Proceedings cannot begin until the lawmakers in question lose their parliamentary immunity, either naturally when their term ends, or via a vote in parliament.
On March 17, parliament stripped HDP deputy Ömer Faruk Gergerlioğlu of his parliamentary status over charges of terrorist propaganda. After a brief time behind bars, Gergerlioğlu's status was restored in July.
Out of the Turkish parliament's 584 lawmakers, 195 have summaries of proceedings against them in the commission. CHP leader Kemal Kılıçdaroğlu is among them.