83 Terrorists Killed in Central, North Sinai: Army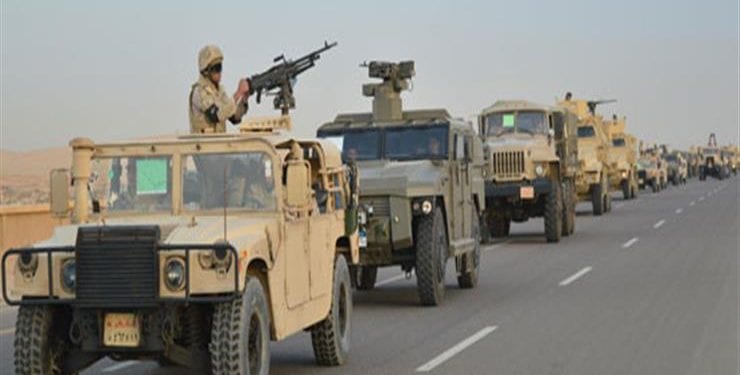 The General Command of the Armed Forces said on Monday that the army and police forces managed to destroy 14 terrorist hideouts, 115 four-wheel vehicles in northern and central Sinai during the period from 28/09/2019 until today.
In a statement, the armed forces also announced the killing of 83 terrorists and seizing of 65 arms of various types, 20 mortar shells, ammunition, explosive devices, solar power units and communication equipment in North and Central Sinai.
The statement also added that other military operations were carried in north Sinai, announcing the killing of 6 most dangerous takfiris there.
It also pointed out that 376 explosive devices were detonated, in addition to destroying two tunnels in cooperation with Border Guards.
A number of 61 criminals and suspects were also arrested during these military operations, the statement noted.
According to a statement, the number of 22 devices used in exploring metals, 5813 kg of hashish, and 7082 kg of narcotics were also seized.
Noteworthy, the operation comes as part of the Interior Ministry's efforts to combat terrorist groups and hunt down the runaway terrorists who plan to destabilize the state's security and stability.
Egypt's security forces have been waging a war over the past four years against an Islamist terrorist insurgency, mostly in North Sinai, that has seen hundreds of security personnel killed, as well as hundreds of terrorists killed in security campaigns.
A Sinai-based terrorist group loyal to the Islamic State regional group claimed responsibility for most of the terror attacks in Egypt over the last few years.
Moreover, the Egyptian forces have succeeded in killing hundreds of terrorists and arresting thousands of suspects during the country's anti-terror war declared by President Abdel Fattah El Sisi, the army chief then, following ousted president Mohamed Morsi.