A moment of truth for Trump as survivors of religious persecution visit White House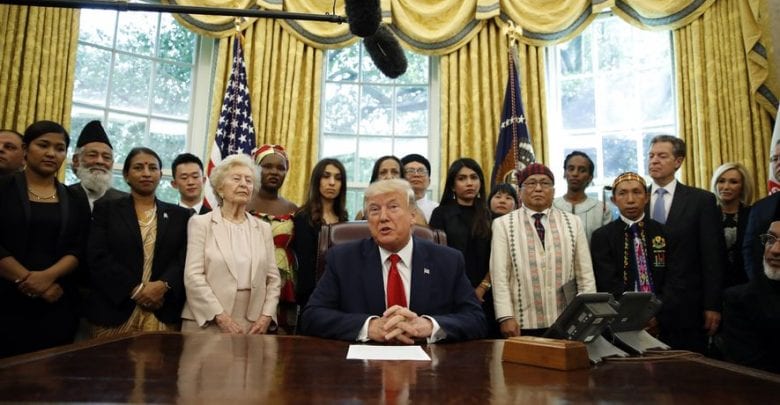 For the second year running, the United States Department of State has hosted an international meeting for government officials, religious leaders and community representatives, as well as professionals concerned with religion. The 2019 Ministerial to Advance Religious Freedom was hailed as "the largest human rights ministerial ever held at the United States State Department," by US Vice President Michael Pence.
The opening session of the three-day event in Washington, D.C., last month featured welcoming remarks by Secretary of State Michael Pompeo and, on the final day, a presidential address delivered by Pence. In between, a series of presentations and plenary sessions included high-profile speakers, representatives of a large number of religious communities and charities, as well as US government officials concerned with religious affairs and interreligious relations.
Invited speakers included members of religious communities who have experienced forms of persecution because of their religions or beliefs. Some speakers had experienced persecution personally or through close family members. The version of the program published online listed these speakers as "survivor" and identified each only by their country and religion in parentheses, such as "(Sudan, Muslim)," "(New Zealand, Muslim)" or "(Eritrea, Christian)." It is not clear why the names of the survivors were omitted, while those of ministers, UN officials and representatives of international organizations were not.
One survivor, Nadia Murad, was identified by name, alongside the parenthetical country-religion note "(Iraq, Yazidi)." The Nobel Laureate spoke on the first day of the event, along with three unnamed survivors: Jewish, Christian, and Muslim from Pittsburgh, Sri Lanka and New Zealand, respectively. In the video recording of the session, the guests are introduced as survivors of violent attacks that targeted religious groups in the past year. They are Rabbi Jeffrey Myers; Yamini Ravindran, the legal and advocacy officer of the National Christian Evangelical Alliance of Sri Lanka; and Dr Farid Ahmed, whose wife was killed as she was attempting to help injured people in one of the mosque shootings in Christchurch on March 15, 2019.
Their experiences underscore, according to Sam Brownback, US ambassador at large for international religious freedom, the notion that "religious persecution is, tragically, not a thing of the past," and that a majority religion in one country is the minority in another.
A highlight took place on the second day, when the speakers identified as survivors visited the Oval Office. The international guests stood behind President Donald Trump as he delivered a short speech from his desk. Media representatives watched and listened, as the world was told there were 27 survivors in the room. The meeting appeared to be carefully coordinated, as most such events typically are, down to the scripted short speeches by Trump, Ambassador Brownback and one of the guests, introduced as "Reverend Samson from Burma," who spoke for approximately 40 seconds.
Surviving Boko Haram, Daesh, imprisonment camps and the oppressive chaos of war leaves marks on the human body, even when the soul is comforted by religious faith.

Tala Jarjour
When Trump initiated what appeared to be a spontaneous conversation with his staff, members of the group interjected with individual pleas, apparently unrehearsed, on behalf of their communities and relatives. This part seemed unplanned, but necessary. The president listened, even when his staff appeared to be hurried for time, to everyone who came forward with a request for help in one region of the world or another. He gave the impression of being engaged, even when not displaying familiarity with the particular plea.
It would be difficult to determine whether Trump was genuinely moved or just wanted to appear sympathetic to this diverse group of people during a week in which his exclusionary remarks about minority members of Congress were drawing strong criticism and dominating the headlines. What we do know, however, is that when one's pressing plea is a matter of life or death, the listener's political motivation becomes of secondary importance.
This incident was in many ways similar to the regular appearances by the current occupant of the Oval Office, flanked by elegantly dressed individuals and facing the cameras. But in stark contrast to the smiling faces normally seen supporting President Trump, the faces in this gathering told stories of suffering that no elegance can hide. Surviving Boko Haram, Daesh, imprisonment camps and the oppressive chaos of war leaves marks on the human body, even when the soul is comforted by religious faith. Deep pain, like love, is difficult to hide.
The final day of the ministerial focused on government action. According to the Department of State's website, government officials from around the globe and representatives of international organizations discussed new commitments to protecting the freedom of religious belief and "developing innovative responses to persecution on the basis of religion."
It is not clear whether there will be a third installment of this global gathering in the upcoming election year. But if the conversation that took place in the Oval Office on July 17 is any indication, then let us hope future recommendations will extend to supporting survivors, individuals and communities alike, as they attempt to live with unimaginable loss.