A sudden stop for the Brazil-Argentina match in the World Cup qualifiers in Qatar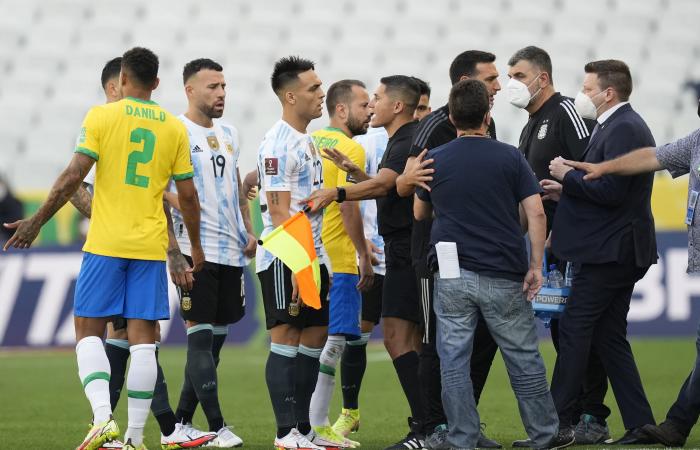 The expected match between the two traditional rivals, the Brazilian national team and its Argentine football guest, at the "New Kimica Arena" in Sao Paulo, was suspended, on Sunday, in the South American qualifiers for the 2022 World Cup, a few minutes after its launch due to violating the protocols of the Corona virus.
Only a few minutes after the start of the match, representatives from the health authorities stormed the stadium, which led to a great controversy, after which the Argentine players entered the dressing room, according to our reporters.
The aim of the entry of the health authorities was to demand the withdrawal of players from the starting lineup of the Argentine national team as a result of their presence in England in the last 14 days preceding their arrival in Brazil, and therefore they must be quarantined.
Reuters said that before the match, Brazil's health watchdog, Anfisa, had asked to immediately isolate four players from the Argentine national team.
The authority said in a statement: "Invista" considers the situation a serious health risk, and therefore asked the local health authorities to determine the immediate quarantine of players, who have been prevented from participating in any activity and must be prevented from staying on Brazilian soil.
Under Brazilian rules, visitors who have been in the UK within 14 days before entering the country must self-quarantine for 14 days upon arrival.
The ESPN website said that the four players are Emiliano Buendia, Emiliano Martinez from Aston Villa, Giovanni Lo Celso and Christian Romero from Tottenham.
Football fans waited to watch the fiery revenge summit between the two traditional rivals in the postponed sixth round of the South American qualifiers for the 2022 FIFA World Cup in Qatar.
The summit between the two teams was scheduled last March, but the Corona virus pandemic forced the South American Federation to postpone the fifth and sixth rounds due to the European clubs' refusal to license their players to join their countries' teams.