Ahly are a team full of history, says Real Madrid's Ancelotti
Real Madrid coach Carlo Ancelotti said on Tuesday that Ahly are a great team with a strong history and one of the most important clubs in the world.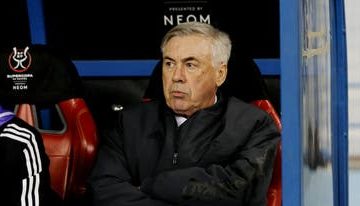 Ancelotti stressed that Real Madrid's coming game against Ahly in the FIFA Club World Cup semi-finals, which will be held Wednesday in the Moroccan capital of Rabat, will be a competitive one.
"They're [Ahly] a team full of history, one of the most important in world football," Ancelotti told the media during a press conference at the Prince Moulay Abdellah stadium in Morroco.
"They are well organised with skillful players and it is going to be a competitive game. They want to win just as much as we do," the 63-year-old Italian coach said.
"We have a lot of respect for them, like everyone else, especially a club with such a strong history in African football. A club with such a history has obviously got fans behind the team. It is going to be an entertaining game," Ancelotti added.
Ancelotti also said that he thinks there will be a lot of Madrid fans in the stadium and everyone will enjoy a competitive game with two teams who are keen to play in the final.
Meanwhile, Real Madrid's midfielder Federico Valverde praised Ahly fans and stressed that he and his teammates are ready for the game.
"Ahly have a very good fan base. We know what this team is in this part of the world. We know what they generate on the pitch and the history they have. But we will bring out our weapons, always with respect," the 24-year-old midfielder said.
It is the second time for Ahly to play against the European Champions as the Red Devils lost to Bayern Munich 2-0 in the semi-final of the 2020 edition.
The Cairo giants, who are making their eighth appearance – the third in a row – in the Club World Cup, have already claimed three bronze medals in the 2006, 2020 and 2021 editions.
Real Madrid are the most successful club in the history of the Club World Cup, having won four titles in 2014, 2016, 2017 and 2018.