Al-Aqsa Mosque: Clashes at Al-Aqsa Draw Regional, International Condemnation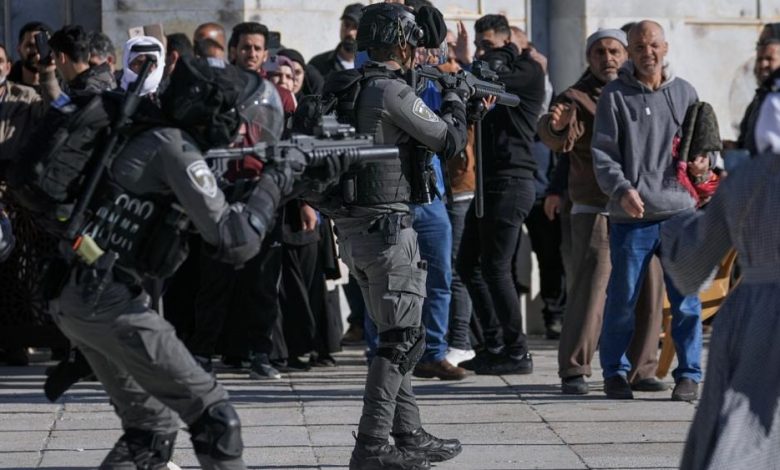 The international community on Friday expressed deep concern over a recent upsurge in violence in the occupied West Bank and clashes between Palestinians and Israeli police at the Al-Aqsa Mosque.
At least 152 Palestinians were injured in clashes with Israeli riot police and 400 worshipers have been arrested inside Jerusalem's Al-Aqsa mosque compound on Friday, the latest outbreak in a recent upsurge of violence that has raised fears of a slide back to wider conflict.
The UN said it was "deeply concerned by the deteriorating security situation in Jerusalem during these holy days," adding that the provocations must stop.
"I call on political, religious, and community leaders on all sides to help calm the situation. Allowing tensions to spiral further only risks another escalation," Ton Wennesland, UN special coordinator for the Middle East Peace Process, said in a statement.
He said the UN was in close contact with key regional partners to calm the crisis and also urged Israeli and Palestinian authorities to "immediately deescalate the situation and prevent any further provocations by radical actors."
The clashes come at a particularly sensitive time. Ramadan this year coincides with Passover, a major weeklong Jewish holiday beginning Friday at sundown, and Christian holy week, which culminates on Easter Sunday. The holidays are expected to bring tens of thousands of faithful into Jerusalem's Old City, home to major sites sacred to all three religions.
The European Union also said it was following the situation with deep concern and called for violence to stop immediately.
"Further civilian casualties must be prevented as a priority," said Peter Stano, spokesperson for the EU's external affairs. "The status quo of the holy sites must be fully respected (and) Palestinian-Israeli security cooperation is essential."
The foreign ministries of Germany, France, Italy and Spain condemn the violence on Friday in East Jerusalem in a joint statement.
Stano reiterated the EU's call on all parties to engage in de-escalatory efforts, and said all leaders have a responsibility to act against extremists.
"We call on all sides to exercise maximum restraint as well as to refrain from violence and from all forms of provocation," spokespersons for the ministries said in their statement.
Neighboring Jordan, which has custodianship over the holy site, and the Palestinian Authority issued a joint statement accusing Israel of "a dangerous and condemnable escalation that threatens to explode the situation."
The Palestinian Foreign Ministry said it "holds Israel fully and directly responsible for this crime and its consequences."
Nabil Abu Rudeineh, spokesperson for Palestinian President Mahmoud Abbas, said the international community should intervene immediately to "stop Israeli aggression against Al-Aqsa mosque and prevent things from going out of control."
Arab League chief Ahmed Aboul Gheit warned against igniting the situation in the Al-Aqsa Mosque and blamed the Israeli occupation forces, saying they were committing serious aggression against the Palestinians and their right to perform rituals inside Al-Aqsa during the Muslim holy month of Ramadan.
"Israeli attacks on worshipers represent a continuation of the series of Israeli transgressions and provocations that aim to divide Al-Aqsa spatially and temporally," he said, expressing solidarity with Jerusalemites and Palestinians.
Secretary-general of the Gulf Cooperation Council condemned Israeli police and special forces for storming the mosque compound and urged Israel to respect the historical and legal status quo in occupied Jerusalem and its sanctities and to stop all illegal measures.
Nayef Al-Hajjraf also called on the international community to assume its responsibilities to preserve the safety of Al-Aqsa Mosque and worshipers, and the need for Israel to abide by its obligations as an occupying power in accordance with international humanitarian law.
The Organization of Islamic Cooperation said it holds Israel "fully responsible" considers this dangerous escalation an attack on sacred sites of the entire Islamic nation, and a flagrant violation of international resolutions.
It also called on the international community, especially the UN Security Council, to put an end to these repeated violations, and to provide protection for the Palestinian people and the holy sites.
Egypt also condemned the Israeli raid.