Al-Sayeh reveals the reasons that postponed Libyan presidential elections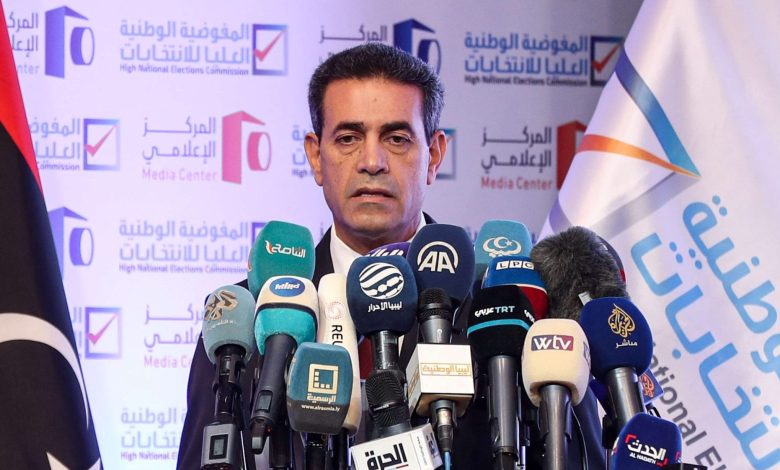 The head of the High National Elections Commission, Imad al-Sayeh, revealed, Monday, the "compelling" reasons that prevented the announcement of the final list of candidates for the presidential elections, and for which the elections were postponed.
The head of the commission explained that the latest of these rulings was the judgment of the Misurata Court of Appeal issued on December 19, which halted the decision of the High Electoral Commission No. 80 for 2021, issued on November 24, regarding the adoption of the preliminary list of candidates, which means stopping all procedures undertaken by the commission to elect the president of the country.
In his briefing before the House of Representatives, Al-Sayeh said that the first reason lies in the conflicting judicial rulings, which were at the same time final, in addition to other judicial rulings that were outside the time period specified in the election law.
Al-Sayeh stressed that the commission cannot override judicial rulings, whether within or outside the time period specified by the law, pointing out that these judicial rulings have established legal centers for the benefit of some candidates, and the commission has dealt with them in any way.
He added that one of the reasons that led to the postponement of the elections was threats made to the commission in the event that it issued the final list of candidates in the presence of the names of specific candidates.
The Head of the High National Elections Commission stressed that the reasons for postponing the elections he mentioned were not and will not be overcome by the Commission except in cooperation and coordination with the House of Representatives to get out of the crisis or find other solutions through which we can complete the electoral process or look for a way out other than completing the electoral process.