Algeria beat Qatar and qualifies for the Arab Cup final in an exciting match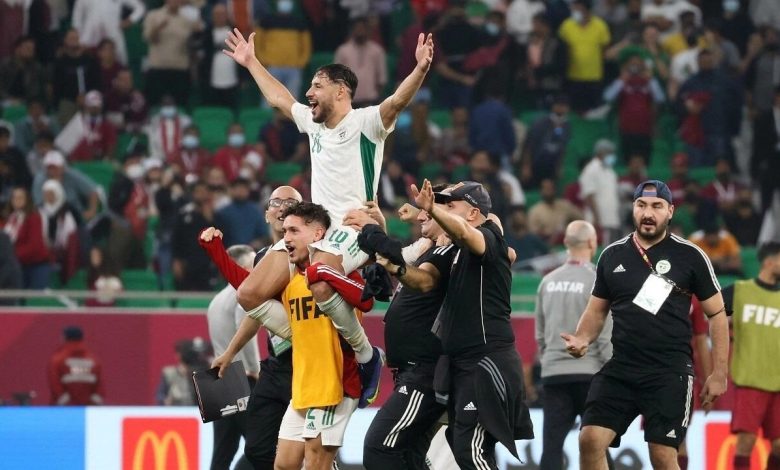 The Algerian national team qualified for the 2021 Arab Cup final after achieving a deserved victory at the expense of Qatar 2-1 in the match that brought them together on Wednesday evening at Al Thumama Stadium, as part of the semi-finals of the Arab Cup 2021 currently being held in Doha with the participation of 16 teams and continues until The eighteenth of December.
Algeria's first goal came through Algerian star Djamel Belamri in the 59th minute of the match, before Mohamed Muntari arrived in the 97th minute of the match with a equalizer. Before Youssef El Belaili settled in the sixteenth minute of the match overtime.
The Algerian national team set a date with its Tunisian counterpart in the final match of the Arab Cup 2021, which will be held at five in the evening next Saturday at the World Cup "Al-Bayt" stadium.
Egypt will meet its Qatari counterpart in the match that will be held at 12 noon at the "974" World Cup stadium, to determine the third and fourth places.
The match witnessed excitement from both sides, as both tried to score the goal of progress during the half-activities, but the absence of conciliation and the vigilance of the guards and defenders was a barrier to achieving either of them.
In the 12th minute of the match, Al-Moez Ali managed to provide a wonderful artistic touch by turning a scissor ball over the crossbar in a way that ignited the fans in the stands that almost gave the owners of the land progress.
In the 21st minute of the first half, Baghdad Bounedjah received a wonderful cross in front of the goal line, but he did not succeed in directing the goal of the Qatar national team.
Yassin Ibrahimi also received a charming pass in the 35th minute of the match, but he surprisingly placed it in the hands of the Qatar goalkeeper.
With the start of the second half, the Qatar team intensified its attacks, as more than one opportunity appeared through Baghdad Bounedjah, but Jamal Belamri had the upper hand and scored the goal for his country in the 59th minute.
After that, the Qatar national team tried to reach the equalizing goal with many attacks through its players, but a tight defense from its Algerian counterpart contributed to maintaining the result as it was until Al-Moez Ali reached the reinforcement goal in the 97th minute.
The formation of the Qatar national team was as follows:
Saad Al Sheeb, Abdel Karim Hassan, Abdel Aziz Hatem, Hassan Al Haydos, Akram Afif, Karim Boudiaf, Hammam Al Amin, Bassam Al Rawi, Boualem Khoukhi, Ismail Mohamed, Al Moez Ali.
While the formation of the Algerian national team was as follows..
"Rais Mobolhi, Hussein bin Ayada, Elias Shetty, Jamal bin Al Omari, Abdel Qader Badran, Zakaria Darawi, Sufian Dabkeh, Yassin Ibrahimi, Youssef Blaili, Tayeb Meziani, Baghdad Bounedjah."