Algeria Signs 19 Agreements With China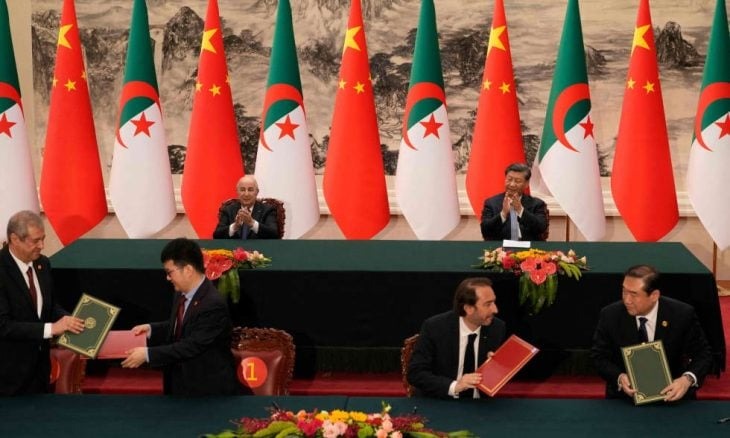 In an apparent shift towards bolstering Eastern affiliations, Algerian President Abdelmadjid Tebboune and Chinese President Xi Jinping oversaw the signing of 19 collaboration agreements and memoranda of understanding (MoUs) on Tuesday. The agreements were signed during President Tebboune's official visit to Beijing.
These agreements include cooperation across various sectors like railway transportation, technology transfer, agricultural collaboration, and the creation of novel communication cooperation frameworks.
An important highlight was the MoU between the Chinese Academy of Governance and the Algerian Ministry of Interior, Local Assemblies and Urban Planning. Other MoUs signed encompassed areas such as sports, trade cooperation enhancement, the formation of an expert team to encourage economic and investment collaboration, and technical cooperation in plant and animal quarantine.
Additional agreements signed pertain to the executive program for cooperation and exchange in scientific research, an MoU for judiciary sector collaboration, and another MoU for cooperation in social development and the renewable and hydrogen energy sectors.
President Tebboune's visit to Beijing, which began on Monday, was initiated by an invitation from President Xi Jinping. It signifies a progressive move towards reinforcing alliances with Eastern countries.
China, being Algeria's main trading partner since 2019 and accounting for 17% (around 9 billion dollars) of its financing, as per official data, has an integral role in Algeria's economy. These new agreements solidify the relationship between the two countries, painting a promising future for their cooperation.
Two Algerian lawmakers stressed that the visit was geared towards strengthening partnerships with Eastern countries, moving away from the European bloc, whose economic dependability has been questioned.