Aqila Saleh: Turkish regime of supports the survival of mercenaries in Libya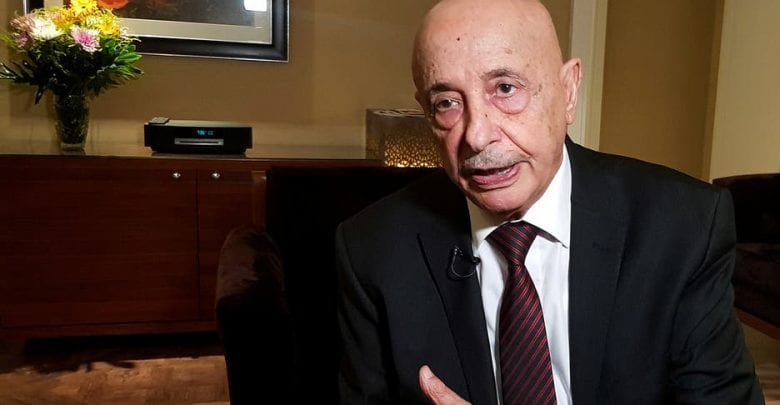 Aqila Saleh, the president of the Libyan House of Representatives, affirmed that Turkey is the one that supports the survival of the mercenaries in his country, indicating that it is still sending numerous of them along with the weapons.
He added that Turkey is pushing its arsenal of military equipment in Libya with the illusion that the treaty concluded by Ankara with the former Al-Wefaq government led by Fayez Al-Sarraj allows it to remain in Libya.
He also made it clear that Al-Sarraj did not have the right to sign treaties in compliance with the applicable constitution as well as the political agreement, underlining that the treaties to be effective must be ratified by the Parliament, which rejected them, according to local media reports.
He added, in declarations to the media Libyans, who "do not want the leader of a small group that does not represent the Libyan people, but we want everyone to participate in the election of the president in so that the next elected president will be supported by the people and the legitimate head of the country ".
Furthermore, he stressed that the only solution to end the division, unify the institutions and reconcile the nation is to elect the head of state from among the people.
budget session
In parallel, Saleh invited all parliamentarians to participate in the session scheduled for next Monday to vote and decide on the general budget bill, enact the laws on presidential and parliamentary elections, approve the distribution of electoral districts. in across the country and respond to the Council on the appointment of a Chief of General Intelligence.
And Parliament spokesman Abdullah Blihaq said in a video speech that Saleh invited representatives to assume their responsibilities and attend the session, stressing that given the conditions the country is going through, the benefits mentioned will be achieved in the next session with whoever representatives attend.
Parliament is the only legitimate body.
Blihaq said the House of Representatives is the only legitimate body in Libya in compliance with the constitutional declaration authorized to enact laws and legislative acts relating to all affairs of the country, in particularly in the upcoming elections, indicating that the Chamber will fulfill its obligations in this sense to hold the elections in time.
Interestingly, the Libyan parliament preferred in 7 previous sessions reached agreement to approve the budget due to differences on its size, as well as controversy over the defense budget in light of the lack of consensus on the appointment of a defense minister.