Arab states condemn Israeli minister's 'no Palestinians' racist remark
Israel's far-right National Security Minister Bezalel Smotrich says there 'isn't a Palestinian people'.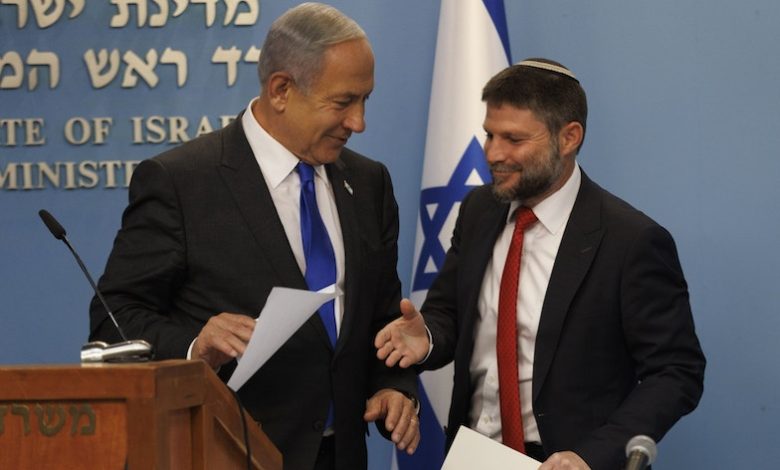 The Palestinian Authority, Egypt and Jordan have condemned as "racist" a firebrand Israeli minister's remarks denying the existence of the Palestinian people, with Amman summoning Israel's ambassador for a rebuke.
Israel's far-right Finance Minister Bezalel Smotrich is part of veteran leader Benjamin Netanyahu's hard-right government that took office in December.
Smotrich had already faced international rebuke in early March after calling for a Palestinian town in the occupied West Bank to be "wiped out" after its settlers rampaged through it, killing one Palestinian and setting fire to cars and homes.
A Jordanian official told Reuters news agency on Tuesday that Israel had reassured the kingdom that Smotrich's behaviour, which included standing at a podium adorned with a map of an Israeli flag that included Jordan and the Palestinian territories, did not represent its position.
"There are no Palestinians, because there isn't a Palestinian people," he said on Sunday in Paris, quoting French-Israeli Zionist activist Jacques Kupfer at an event in his memory, according to a video circulating on social media.
On Monday, Jordan's Foreign Minister Ayman Safadi said he had been told by Israel's national security adviser that Israel respected the sovereignty and territorial integrity of its neighbour.
Meanwhile, Palestinian Prime Minister Mohammad Shtayyeh said before a cabinet meeting on Monday the "inflammatory statements" made by Smotrich provided "conclusive evidence of the extremist, racist Zionist ideology … of the current Israeli government".