At Least 12 People Killed As Sadr Supporters, Security Forces Clash In Baghdad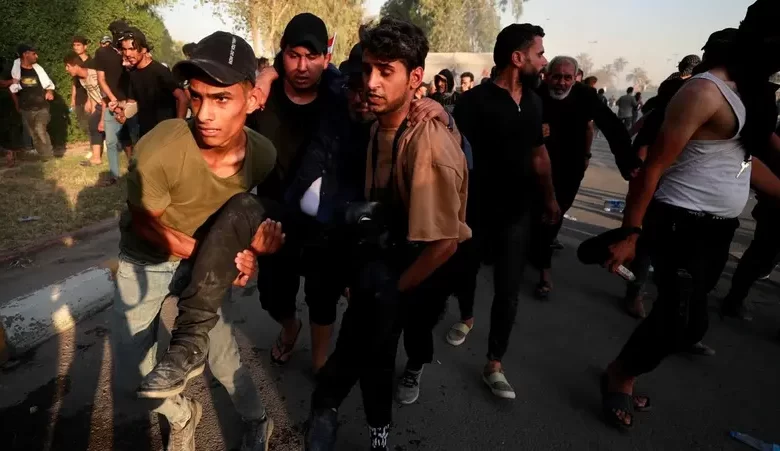 At least 12 people have been shot dead in Baghdad's Green Zone after hundreds of supporters of influential Shi'ite cleric Muqtada al-Sadr stormed government buildings amid soaring tensions with rival Iran-backed Shi'ite groups.
At least 270 others were wounded on August 29 as gunshots and tear gas were fired across the Green Zone that houses government and diplomatic buildings.
The United States labeled the unrest in Baghdad as "disturbing" and called on Iraqis to abstain from violence and seek dialogue to resolve political disputes.
The United Nations Assistance Mission in Iraq (UNAMI) called developments "an extremely dangerous escalation" and also urged all sides to "refrain from acts that could lead to an unstoppable chain of events."
"The very survival of the state is at stake," it said.
Witnesses said Sadr loyalists and supporters of a rival Shiite bloc, the pro-Iran Coordination Framework, had exchanged fire in the fortified Green Zone.
Security forces later patrolled the capital, firing tear gas in an attempt to control the Sadr supporters, hours after Sadr announced his "definitive retirement" from politics amid a tense political standoff.
Authorities announced a nationwide 7 p.m. curfew, set to last until further notice.
Iraq's government has been deadlocked since Sadr's party won the largest share of seats in parliamentary elections last October but did not gain enough to secure a majority government.
Protests have also erupted in the Shi'ite-majority south, with Sadr's supporters burning tires and blocking roads in oil-rich Basra Province and hundreds demonstrating outside the government building in Missan.
His rejection of talks with Iran-backed Shi'ite rivals led to political uncertainty and intensifying intra-Shi'ite fighting.