At least 25 worshippers were shot dead at Sikh temple in Kabul when Islamic State group gunman rampaged through temple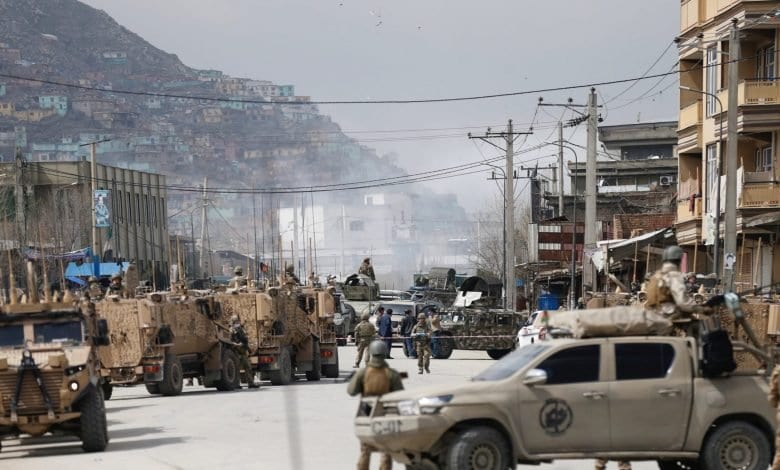 The sound of at least one blast was heard from the area, suggesting the possibility of suicide bombers, but its cause was unclear and also it was not immediately possible to find if it happened inside the temple or outside.
The attack, the first of its kind against a worshiping center for the Sikh and Hindu minorities in the capital, happened during a morning ritual ceremony.
Anarkali Honaryar, a senator for the Sikhs told The Washington Post by phone that "over 150 worshipers and members of some of the families living in the temple were trapped,"
"We believe four assailants are involved and the attack happened during morning worshiping time," she said.
She had no information about possible casualties, but another parliamentarian from the Sikh minority, Narindra Singh Khalsa, told the Associated Press that at least four people were killed.
ISIS attack in Kabul leaves 32 dead, more than 80 wounded
Several ambulances were seen rushing to the site of the attack and then evacuating the wounded. U.S.-led foreign troops also came in armored vehicles to join the hundreds of Afghan forces surrounding the area.
Aryan said government forces were moving slowly to avoid casualties among those trapped and that some have already been rescued.
No group had immediately claimed responsibility for the strike which comes weeks after the killing of several dozen civilians in a commemoration ceremony held for a slain leader of the Hazara ethnic group, who are largely followers of the Shiite sect of Islam.
Affiliates of the so-called Islamic State claimed responsibility for that attack and in general focus their assaults on Afghanistan's minorities, particularly Shiites.
The more powerful rebel Taliban, meanwhile, has reduced its operations against government forces in anticipation of peace negotiations. It also issued a statement saying it was not behind the Sikh temple attack.
Sikhs and Hindus, religious minorities in Afghanistan, have suffered immensely from persecution during the decades of war in the country. Many of them have left the country both because of war and rising crime. A group of their prominent leaders lost their lives in a suicide attack in 2018.