Barcelona decided to sell the rights to the name of its stadium, Camp Nou
For the first time in its history, Barcelona is selling its name Camp Nou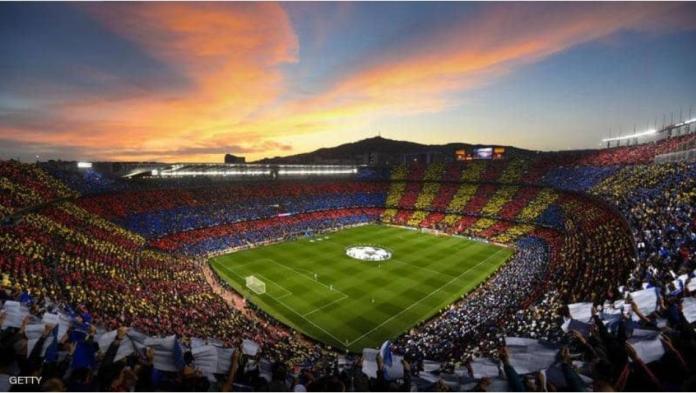 For the first time in its history, but for a charitable goal, Barcelona decided to sell the rights to the name of its stadium, Camp Nou.The Barcelona club aims to sell the rights to its stadium name, which is conditional for one year, to raise funds to fight the new Corona virus, as the Catalan club's executive council announced that it will donate the amounts that will be collected in full by selling the property rights to Camp Nou to fight the global epidemic.The stronghold of Barcelona, ​​the Camp Nou stadium, which opened in 1957, is the largest football stadium in Europe with more than 99,000 seats.
Club Vice President Jordi Cardoner told the Associated Press: "We want to send a global message: For the first time someone will have the opportunity to put his name on Camp Nou, and revenue will go to all of humanity, not just to Barcelona," according to Sky News Arabia.
He added: "The initiative arose in an emergency situation. We believe that we must have a very rapid response and put our crown jewel in service (the battle against the virus)."It is noteworthy that the Catalan club was planning to sell the stadium property rights in the 2023-2024 season in the hope that it would return him with the equivalent of $ 326 million, paid in advance through a 25-year contract, to pay for the renovations on the stadium and other facilities.
Cardoner, who recovered after being infected with the virus, explained that the Board of Directors's perception of this new charitable deal is that it will be a standalone deal from the long-term deal for 25 years, indicating that the club will take into account the possibility of including this deal in the future deal if the new sponsor of the stadium shows any interest In this regard.
Cardoner indicated that Barcelona wanted to hear offers from private companies and institutions, and would consider opening them to a group of interested sponsors who can work together.
The club's vice president did not give any estimate of the amount that the foundation hopes to obtain from this offering, but given what a player like Argentine star Lionel Messi represents in the team, and the millions of viewers who watch the team's matches every week, "Camp Nou" is one of the most sought after In the world of sports, so the amount may be significant.Cardoner indicated that the club's management is open to all suggestions, and it wants to maximize economic participation and ensure that partners share the same social values.
The Barcelona Foundation for Social Charities, which runs programs in Spain and 58 other countries that focus largely on youth and refugees at risk and supervised by Cardon, is to manage the investment of funds in the fight against the Covid-19 epidemic.