Ben-Gvir's private militia and a clean chit from a Nazi cabinet
Ben-Gvir's message is that if Palestinians protest or defy the occupation, then they have to be dealt with through excessive force which is utter defiance of internationally agreed standards of proportionality.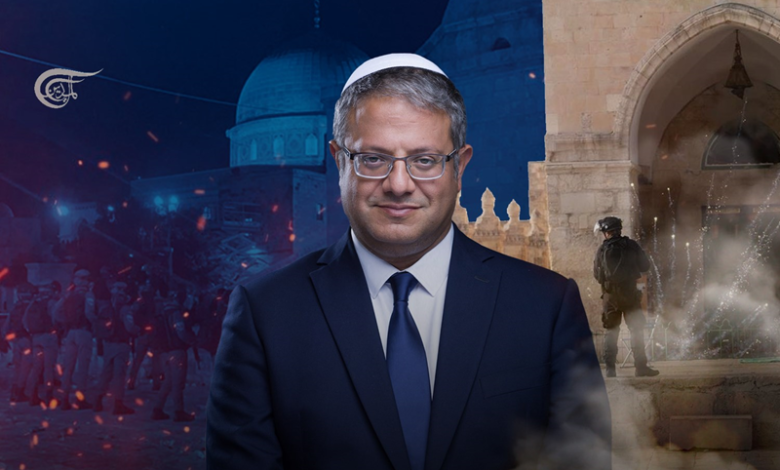 If there were any doubts regarding the regressive, extremist, and racist orientation of the Netanyahu cabinet in pro-"Israel" circles across the world, then they should be allayed. The Zionist demagogue, Itamar Ben-Gvir and his controversial private militia, dubbed erroneously as the "national guard of Israel," has been given a clean chit by the Israeli cabinet. This entails that ethnic cleansing of the Palestinian people has been officially endorsed as "state policy" with Ben-Gvir further stating that the militia will target unrest in Palestinian communities as a blanket reference that a certain nationality and ethnicity is the source of trouble in "Israel". This constitutes crass racism, state-sponsored terrorism, and evidence of a socially exclusionary agenda. 
Ben-Gvir's private militia with its offensive orientation draws parallels with the Afrikaner Weerstandsbeweging which remains a far-right, white supremacist political party in post-Apartheid South Africa. Prior to apartheid, the militant wing of the AWB was instrumental in killing members of the occupied Black African population on the premise of safeguarding Afrikaner nationalism and creating a Boer-Afrikaner republic as a solely white state. In 2023, Israeli militias are being formed for the purpose of ethnic cleansing and to create a "Jewish supremacist state" that strips Palestinians of their right to existence. By specifically targeting the Palestinian population within "Israel", Ben-Gvir is ensuring that a fascist country, which has long been the aspiration of the Netanyahu coalition, actually materializes at the expense of Palestinian social exclusion. 
Additionally, the swift endorsement of the militia, which amounts to approximately 2,000 occupation troops working alongside the fascist Israeli police and the occupation forces, underlines the importance placed by the Netanyahu regime on orchestrating a "state" crackdown against the Palestinians. As per Netanyahu's office, a committee comprising of the Israeli occupation forces would determine the militia's authorities and whether it would be subordinate to the Israeli police or take orders from Ben-Gvir. Should the latter hold true, then all non-Jewish communities living in "Israel" should brace for a culture of complete impunity from the occupation forces who would be licensed to carry out arson and extrajudicial killings without any accountability. The Netanyahu government has essentially signed the death warrant for all non-Jewish communities and particularly Palestinian Muslims.  
A statement from Ben-Gvir's office also stated that the militia would deal with "nationalistic crime, terror and threats to state sovereignty." Without defining what is meant by either of these terms, Ben-Gvir has made it clear that "Israel" wants to depict all Palestinians living in "Israel" who are quintessentially an occupied population as terrorists while ensuring that the occupying force has a justification to undertake crimes against humanity. Any historian or analyst who has studied the nature of the Zionist entity would vouch for the fact that the Israeli government mercilessly massacres Palestinians under the garb of "self-defense" and the formation of a militia to curb so-called threats to sovereignty is just an excuse for more bloodshed. The truth is that with the "state sponsorship" of this draconian militia, the status quo will be further solidified amid the proliferation of illegal settlements and undercutting the just struggle for self-determination for the Palestinians. 
The demagoguery on display by Ben-Gvir is also telling. While speaking to Army Radio, the militant stated that the Israeli occupation police, which has already carried out acts of brutality on Palestinians, does not deal "exclusively" with curbing so-called "disturbances" for which a militia is needed. His reference is to pro-Palestinian and legitimate protests in mixed Jewish-Arab areas in the Zionist regime as witnessed during the Gaza War of 2021. Ben-Gvir's message is that if Palestinians protest or defy the occupation, then they have to be dealt with through excessive force which is utter defiance of internationally agreed standards of proportionality. Exclusivity on Palestinians also entails an uptick in target killings, unabashed religious and racial profiling, and possible summary executions which are all sanctioned by the Netanyahu regime.
While some may conclude that such endorsements are diversionary tactics to sway public opinion, which has been overwhelmingly negative in "Israel" over Netanyahu's crackdown on the judiciary, a more plausible explanation is that this plan was inevitable. Despite anti-proposal murmurs over Ben-Gvir's project, an agreement to finance it with $276m and skimming 1-1.5% of the budget from all ministries was eventually reached. This spending which is aimed at summary executions is being largely ignored by the Netanyahu regime as Ben-Gvir pushes for establishing a committee that includes representatives from the Prime Minister's office, the security and justice ministries, as well as from the occupation forces. The decision involves participation from all institutions, which underlines its universal appeal in a regime that is adamant about Palestinian elimination.
The endorsement also constitutes an embarrassment for all those who vouch for "Israel" including from within. Former public security minister Omer Bar-Lev, for example, stated that the militia will be formed by a controversial minister who lacks understanding and was convicted of supporting a terrorist group called the Kach Party. For a regime that has controversial tools and mechanisms in place such as the Shin Bet, Mossad, riot occupation police, and a SWAT formation, this militia marks a new low for Israel. 
It is clear that Ben-Gvir's militia and its endorsement by a Nazi cabinet is a threat to Palestinians as an occupied population. The world should immediately take notice.
By:
Hamzah Rifaat