Benzema is injured and causes panic in the French camp, hours before the start of the World Cup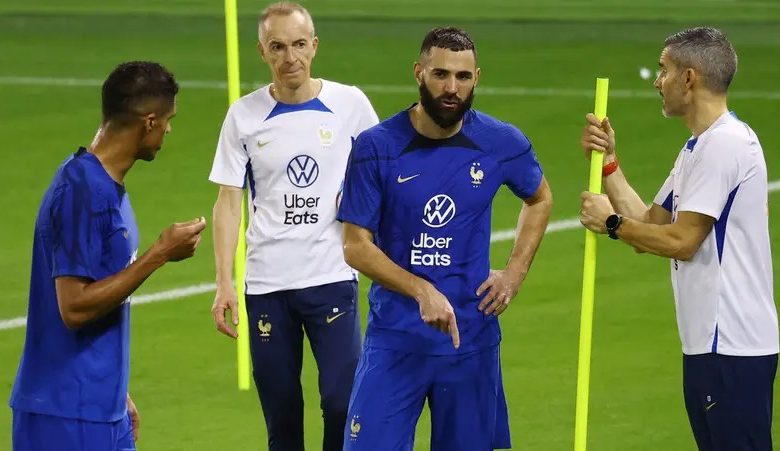 French star Karim Benzema left the national team's training today, Saturday, affected by an injury that caused panic among the coaching staff led by Didier Deschamps, about the possibility of the absence of one of the most prominent elements of the team seeking to defend its title in the World Cup.
According to French media reports, Benzema started the first part of the French national team's training session today, Saturday, with his colleagues.
And unlike the past days when he was completing training individually, today he continued to play with his colleagues, in what seemed to be a positive sign of his recovery from muscle discomfort that kept him away from Real Madrid's matches in the past weeks, and prevented him from training normally with the French national team since the start of his World Cup preparatory camp. about a week ago.
Reports indicated that the player, who was recently crowned the Golden Ball award for the best player in the world, withdrew from the training before its end, and appeared affected by an injury that might mean his absence from the stadiums for a while.
And those sources conveyed the fears of the coaching staff and members of the French national team that Benzema might suffer an injury that might prevent him from participating in what might be the last World Cup in his career, given his advanced age, as he celebrates his 35th birthday next December.
The French newspaper L'Équipe said that Benzema will not participate in the first match against Australia next Tuesday, and talked about a high possibility of his withdrawal from the World Cup.
Benzema scored 37 goals in 97 matches with the French national team, and he was looking forward to achieving a distinguished participation with the "roosters" team, crowning his international career, and avenging through it for his exclusion for years and his deprivation of participation in the coronation of the French in the World Cup in Russia, due to his judicial crisis with Mathieu Valbuena.
In the event that any player withdraws from coach Didier Deschamps' squad, he can be replaced until Monday, on the eve of the first match.
France begins the campaign to defend its title with many absences due to injuries that have so far deprived the team of the services of Paul Pogba, Ngolo Kante, Prisnel Kempebe and Christopher Nkunku.
Benzema has only played half an hour (against Glasgow Celtic on November 2) since playing the last ninety minutes on October 19 in the Spanish League.
Real Madrid spoke of Benzema's "muscular fatigue in the thigh muscles in the left leg," and French reports confirmed that today's injury has nothing to do with the previous injury to the La Liga top scorer last season.