Biden vows "to deepen Israel's integration" in the Middle East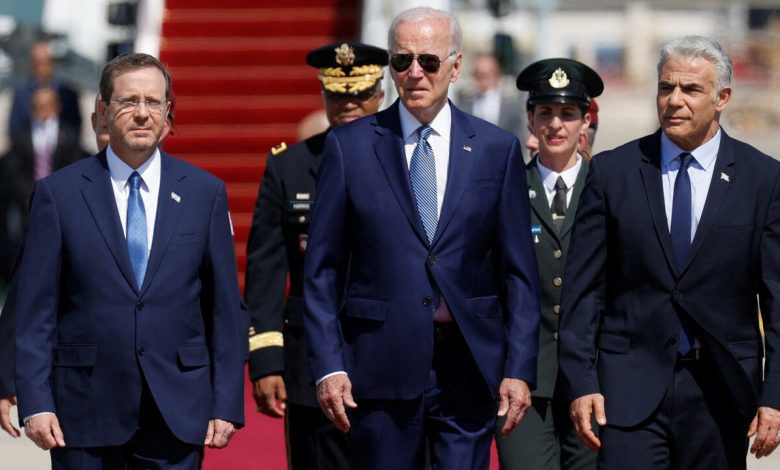 President Joe Biden wants to use his Middle East trip this week to deepen Israel's integration in the region and will be working toward "progress and momentum" on discussions surrounding relations between Israel and Saudi Arabia, the White House said on Monday.
White House national security adviser Jake Sullivan said any normalization between Israel and Saudi Arabia was likely to take a long time, but that Biden would be looking to make progress on that front during his trip to Israel and Saudi Arabia this week.
"It is our hope and expectation, as we look out into the future, we can help facilitate Israel's deeper integration into the region across the board," he said.
"Specifically, with respect to Israel and Saudi Arabia, I'm not going to get ahead of very intensive work that will be done in the course of this trip.
"Any normalization of any kind would be a long process, but looking for progress and momentum in that direction is certainly something we're focused on as we head off to the Middle East."
He delivered a speech in which he vowed "to advance Israel's integration" in the Middle East and discuss support for the two-state solution to the Israeli–Palestinian conflict.
"We'll continue to advance Israel's integration into the region," Biden said shortly after Air Force One touched down.
The president was then given a tour of Israel's advanced missile-defense systems.
Israel prepared the display at its main international airport, showing off a multilayered system that is capable of intercepting everything from long-range ballistic missiles in space to short-range rockets. The systems have been developed in partnerships with the US
They include the Iron Dome, a rocket defense system that has intercepted thousands of rockets fired by Gaza militants, as well as a new laser-based system called the "Iron Beam." That system is not yet operational.
Biden also received a classified security briefing from Israeli Defense Minister Benny Gantz before heading to Jerusalem.
Later, he visited Israel's national Holocaust memorial to pay his respects to the 6 million Jews killed by Nazi Germany and collaborators during World War II.
During his stop at Yad Vashem, Biden rekindled the eternal flame of remembrance, laid a wreath and met with two Holocaust survivors — Rena Quint, 86, and Giselle Cycowicz, 95. A children's choir sang a poem by Hannah Szenes, a female Jewish resistance fighter who was captured by the Nazis in Hungary and executed at the age of 23.
The persistent frustrations of Israeli-Palestinian diplomacy are nothing new for Biden, who first visited the region in 1973 after being elected to the Senate.
The 79-year-old president will meet Israeli leaders seeking to broaden cooperation against Iran, and Palestinian leaders frustrated by what they describe as Washington's failure to curb Israeli aggression.
Iran and Israel were allies then, but the Jewish state now considers Tehran its top threat.
Israel's caretaker Prime Minister Yair Lapid, who took office less than two weeks ago, has said talks "will focus first and foremost on the issue of Iran."
Israel insists it will do whatever is necessary to thwart Iran's nuclear ambitions, and is staunchly opposed to a restoration of the 2015 deal that gave Tehran sanctions relief.
Israel says it is raising 1,000 flags across Jerusalem to welcome the US leader, who has not reversed former president Donald Trump's controversial decision to recognize the city as the capital of the Jewish state.
Palestinians claim Israeli-annexed east Jerusalem as their capital and, ahead of the visit, have accused Biden of failing to make good on his pledge to restore the United States as an honest broker in the conflict.
"We only hear empty words and no results," said Jibril Rajoub, a leader of the secular Fatah movement of Palestinian president Mahmud Abbas.
Biden will meet Abbas in the occupied West Bank city of Bethlehem on Friday, but there is no expectation of bold announcements toward a fresh peace process, meaning the visit may merely deepen Palestinian frustration.
Israel is also mired in political gridlock ahead of elections on Nov. 1, the fifth vote in less than four years.
US-Palestinian ties have recently been strained by the May killing of prominent reporter Shireen Abu Akleh while she was covering an Israeli army raid in the occupied West Bank.
The United Nations has concluded the Palestinian-American national was killed by Israeli fire, something Washington found was likely but said there was no evidence the killing was intentional.
Abu Akleh's family has voiced "outrage" over the Biden administration's "abject response" to her death, and the White House has not commented on their request to meet the president in Jerusalem.