Brutal ISIS attack in Mozambique, 50 men and boys killed in the horrific attack
TERRIFYING ISIS-linked militants have beheaded more than 50 men and boys in two horrifying attacks in northern Mozambique.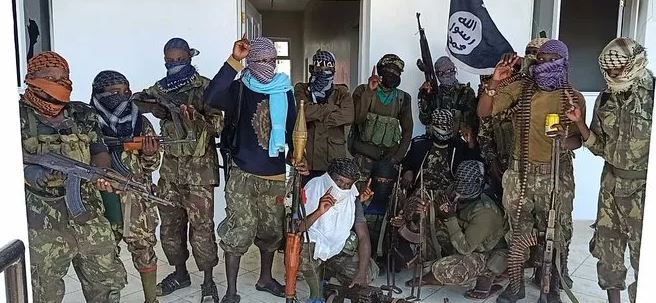 Islamist militants have attacked several villages in Cabo Delgado province in northern Mozambique in the past few days, allegedly beheading more than 50 people, state media and police said on Monday.
"They set the houses on fire and then hunted down people who had fled into the woods and began their macabre action," a police officer told a press conference. Witnesses told local media that the militants had driven residents of one village onto a football pitch before murdering them there.
The militants also reportedly abducted women and children.
Yearslong insurgency
Cabo Delgado province has been in the grips of a rebellion for around three years, fueled by perceived neglect of the region by the national government. Islamist rebels linked to the "Islamic State" group have been exploiting the unrest, carrying out brutal attacks and recruiting disillusioned youth as they try to establish an Islamic caliphate in the region.
Human rights groups say government security forces have also committed massive human rights violations in the province as they try to put down the rebellion.
Two people were beheaded in the village and several women were abducted.
In April, the militants shot dead and beheaded more than 50 youths when they allegedly refused to join them.
A separate group of militants attacked the Muatide village where more than 50 people were beheaded.
The victims were taken to a local football pitch where they were brutally killed and dismembered over the weekend.
Counter-terrorism and organised crime expert David Otto said: "State forces and suspected spies have been captured and beheaded by the jihadist group to send a warning message.
"Women have been the subject of targeted kidnapping.
"Sources say the jihadists keep the women as sex slaves.
"The complex terrain of deep forest and easy access to the Indian Ocean makes the province of Cabo Delgado and the district of Mocimboa da Praia perfect for any armed group to hide.
"They can launch hit and run ambush tactics, escape to the high-sea to neighbouring states and have an ideal logistics route for smuggling of illegal goods, arms and ammunition."
Terror threats mapped 
Last week, around 20 men and teenagers from the Muidumbe district were also beheaded, with dismembered body parts of at least five adults and 15 boys found.
An officer said: "Police learnt of the massacre committed by the insurgents through reports of people who found corpses in the woods.
"It was possible to count 20 bodies spread over an area of about 500 metres.
"These were young people who were at an initiation rite ceremony accompanied by their advisers."
Troops hold ISIS flag upside down 
These latest attacks are part of a series of gruesome attacks carried out in the gas-rich province since 2017.
More than 2,000 people have been killed while 430,000 have been left homeless in the conflict.
This latest attack comes after Washington warned ISIS is taking over swathes of Africa.
A report from West Point – the US officer training academy – said: "ISIS in west Africa is engaging in operations that are increasingly audacious, staggeringly brutal and worryingly akin to what ISIL, as it was known at the time, was doing early 2014.
"Its supporters have been engaging in attacks that have exceeded the scale and complexity of those being deployed by their counterparts in Syria and Iraq for at least a year now."