Burhan Says Sudan 'In Agreement' With Ethiopia Dam
Sudan's leader Abdel Fattah al-Burhan said Thursday that Khartoum and Addis Ababa are "aligned and in agreement" on a controversial Ethiopian dam on the Blue Nile which Egypt disputes over the filling and operation of the reservoir.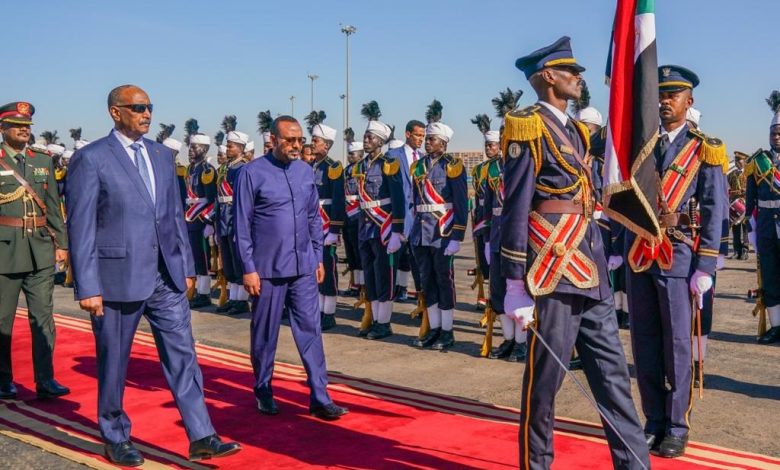 Burhan's remarks came during a meeting with Ethiopian Prime Minister Abiy Ahmed who is on a one-day visit to Khartoum, his first since Burhan led a 2021 military coup.
"Burhan emphasised… that Sudan and Ethiopia are aligned and in agreement on all issues regarding the Grand Ethiopian Renaissance Dam (GERD)," according to a statement by the sovereign council, which he chairs.
The dam has been the source of tensions between Ethiopia and downstream countries, Egypt and Sudan, ever since work began in 2011.
Multiple rounds of talks between the three governments have failed to produce an agreement over the filling and operation of the reservoir.
Egypt is dependent on the Nile for irrigation and drinking water and the Blue Nile accounts for more than 80 percent of its flow.
Sudan hopes the dam will regulate annual flooding and generate electricity, but has voiced fears that its own dams will be harmed without agreement on its operation.
Addis Ababa sees the project as indispensible for its development and insists it will not affect Egypt's or Sudan's share of the Nile's water.
Ethiopia's decision to start filling the dam's huge reservoir in 2020 without prior agreement with the downstream states drew condemnations from both Egypt and Sudan.
So too did its decision to start power generation at the dam in February last year.
Border and politics talks 
Thursday's talks also touched upon border issues between Sudan and Ethiopia, another source of tensions between the two countries in recent years.
Al-Fashaqa, a fertile border region long cultivated by Ethiopian farmers but claimed by Sudan, has seen sporadic deadly clashes between the two sides in recent years.
Burhan said "documents, technical mechanisms and dialogue are the main reference in the issue," the sovereign council said.
Sudan's military ruler welcomed a November peace deal between Abiy's government and the Tigray People's Liberation Front (TPLF) that ended two years of conflict in which as many as 500,000 people were killed, according to US officials.
The fighting drove tens of thousands of people to seek refuge in Sudan.
Sudan has been roiled by political and economic turmoil since the military takeover, which upended a transition to civilian rule launched after the 2019 ouster of longtime strongman Omar al-Bashir.
During his visit, Abiy also met with representatives of Sudan's Forces for Freedom and Change, a civilian bloc which was ousted from power in Burhan's 2021 coup, the group said in a statement.
In December, Sudan's military leaders and political factions, most notably the FFC, signed a preliminary deal to restore the transition.
On his Twitter account, Abiy said he was "pleased" to be in Sudan and expressed appreciation of Burhan's "warm welcome".
"Ethiopia continues to stand in solidarity with Sudan in their current self-led political process," he said.
He affirmed Ethiopia's "non-interventionist principle" and urged "home-grown solutions" in Sudan.