Can Liz Truss ride the perfect storm?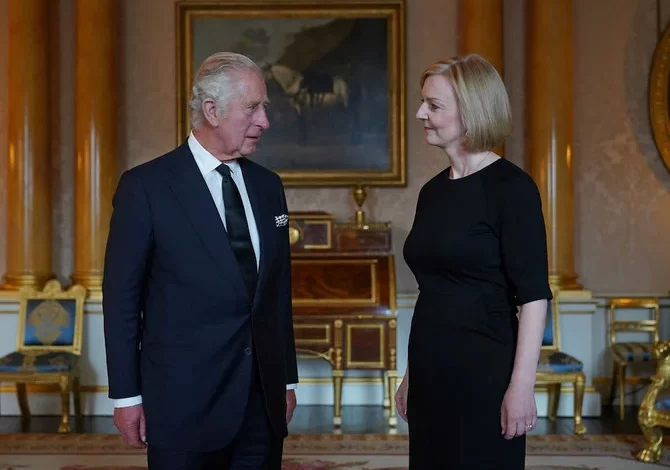 It could not be more symbolic of the long and dutiful seven decades of service to the nation that in her last formal act, Queen Elizabeth asked Liz Truss to form a new government only two days before her passing. The British monarch looked frail and weak, but this did not stop one of the most dignified and loyal servants to her country from fulfilling her duty and confirming the 15th prime minister of her reign.
One can only hope that some of the rare qualities demonstrated by the queen throughout her life might rub off on the other Elizabeth at this meeting, Mary Elizabeth Truss. After all, one of the positive aspects of the announcement that Truss had won her contest with former chancellor Rishi Sunak to lead the Conservative Party and, consequently, become the UK's new prime minister, was that it drew to a close seven weeks of endless, dull and uninspiring public debates between two candidates who could not hide their loathing for each other.
Neither left a strong impression that they believed the country would be in safe hands should their opponent become leader. Now one has to hope and pray that it was Sunak who was wrong in claiming that his rival was talking "fantasy economics." However, both left the public baffled about what exactly they believe in or stand for beyond wanting the most powerful job in the country, as they kept flip-flopping with proposals on how to deal with an ailing economy and a society in crisis, while dark clouds were gathering above an unstable global arena.
The prize for the most pandering answer to the mere 160,000 Conservative Party members who enjoyed the exclusive privilege of deciding the country's next leader must go to Truss, who could not decisively respond to a question put to her in one of the hustings: Was President Emmanuel Macron of France a friend or foe? Her reply was that "the jury is out." This from someone who until last week was Britain's foreign secretary.
There was no surprise when the winner of this contest was declared, and it was only the smaller-than-forecast margin of Truss's victory that was unexpected — something that should give her food for thought, because as well as having the support of only a minority of Conservative MPs, she was not endorsed universally by the party membership.
Furthermore, in contrast to her predecessor Boris Johnson, who won the 2019 general election with one of the biggest majorities in recent history, Truss has no mandate from the public. So she will have to deal sensibly and sensitively with the majority of her MPs who throughout the selection process preferred her rival Sunak by a significant margin. And these are the people who have worked with her for more than a decade in Parliament and government.
During what Truss herself called her 'longest job interview,' she failed to convince people that she had a coherent worldview and a firm set of values.

Yossi Mekelberg
As it stands,  according to YouGov pollsters, half of Britons are disappointed to see Truss as prime minister, a third are "very disappointed" and  a mere 22 percent expressed satisfaction with her. Cynics might say that the low level of confidence that the public and many of her party colleagues are showing could be her most powerful weapon, as it will be a nice surprise should she rise above the low benchmark of current expectations.
Though she lacks charisma and oratorical skills, Truss compensates with ambition and a ruthless streak that seems to stand out even in the cut-throat environment of the Conservative Party. She proved this on her first day in office by culling all the senior Cabinet members who had supported Sunak. Such ruthlessness might enhance the image she likes to present of herself as a tough, Thatcher-like leader, but unless she and her government hit the ground running it might prove to be a gross miscalculation, considering that she is walking on thin ice with her Westminster colleagues.
Obviously, no one should envy the new government's intractable in-tray. Inflation is at its highest for 40 years; as winter approaches, energy prices threaten to push millions into poverty and bring down many businesses; the economy is being hit by the unholy combination of high inflation and recession; the war in Ukraine is raging; and the Northern Ireland issue remains a source of contention in relations with the EU.
During what Truss herself called her "longest job interview," she failed to convince people that she has a coherent worldview and a firm set of values. It is not about her being a supporter of the Liberal Democrats in her youth, or even being anti-monarchist during her teenage and university days. It is about a supposedly mature and established politician making U-turns on every crucial issue that the country has faced in recent years, and how she jumps from one side of a debate to the other, as she did on Brexit, switching from being a Remainer to an ardent Brexiteer, and on how best to ease the pressure on families as a result of the energy crisis, from opposing a cap on energy prices to spending £130 billion on emergency support, something she resisted during her leadership campaign.
Moreover, as millions face uncertainty about their financial situations, fearing poverty and the loss of their homes as interest rates rise, her insistence that it is right to cut taxes that disproportionately benefit the rich also suggests someone who lacks empathy. Such a lack of humanity is also evident in her support for deporting asylum-seekers to Rwanda, especially as this measure offers no guarantees for their rights and wellbeing. Then there is Truss's creation of a Cabinet of like-minded and loyal ministers: This should worry those who would like some diversity of opinion among the decision-making unit, and not groupthink and cognitive closure in face of complex issues. This move of hers might indicate insecurity rather than strength and determination.
Prime Minister Truss and her government might deserve a short honeymoon, a little time to prove that they have a plan, but there are too many question marks, especially with her appointment of a home secretary who supports leaving the European Convention on Human Rights, and of a minister in charge of business, energy and industrial strategy who is a climate change skeptic. There is a jury out there — not one that has doubts about Macron's France being a friend of the UK, but one that is not at all certain of Truss's suitability to steer the UK through these troubled times. It is up to her to convince it otherwise.