Champions League power rankings as Liverpool, Chelsea, Man City and Spurs return to action
The Champions League returns on Tuesday night with the first of the last-16 ties, and Premier League quartet Manchester City, Liverpool, Chelsea and Tottenham are all eyeing glory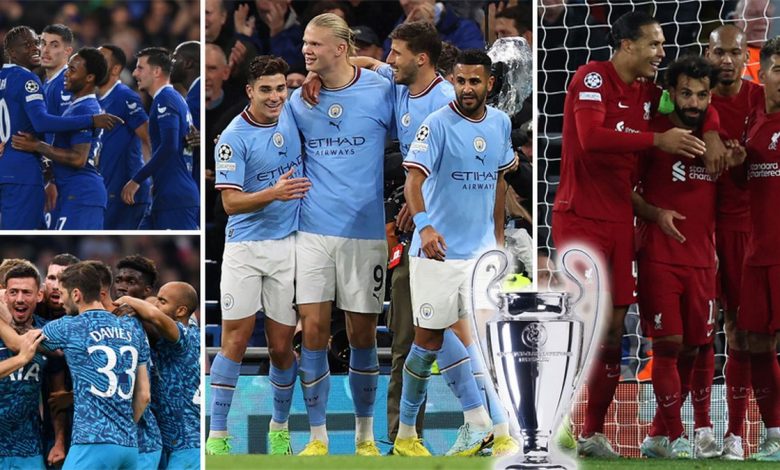 The Champions League is back, and you know what that means.
Thirty-two teams have been whittled down to 16 for the start of the knockout rounds, and despite some up and down form domestically, all four Premier League combatants have made it this far.
But before we start, a reminder.
Our Champions League power rankings are NOT necessarily a rank of the best teams in Europe right now, but more where they all stand in relation to the draw and their probability of progression.
So here's a reminder of the last-16 ties:
AC Milan vs Tottenham
Borussia Dortmund vs Chelsea
Liverpool vs Real Madrid
Eintracht Frankfurt vs Napoli
RB Leipzig vs Manchester City
Inter Milan vs Porto
There's always someone who has to get the short straw, and this time around it is Eintracht Frankfurt.
The German side, last season's Europa League winners, have been handed one of the toughest tests in Europe against a vibrant Napoli, and they'll need to take some form of first leg lead to Naples if they are to have any chance of progression. Probably a healthy one.
Results like Sunday's 3-0 hammering at mid-table Cologne don't suggest that's possible though, and a chastening exit looks likely.
Another one of Germany's representatives and another one that has been given a huge task, with RB Leipzig standing in the way of a Manchester City side the bookies are making heavy favourites for the tournament.
Leipzig have some fine players, and all eyes will be on Chelsea's past and future in attack in Timo Werner and Christopher Nkunku.
Josko Gvardiol is a fine defender too, as we saw at the World Cup, but trying to keep out City could leave him as dazed and confused as the time he chased Lionel Messi.
Last seen getting beaten 9-0 at Anfield and lashing out at anyone and everyone he could see in frustration, Parker has, like Colin Farrell, pitched up In Bruges where he takes over the Belgian side who are unusually off the pace in their domestic league.
His seven league games since arriving have yielded just the one victory, which doesn't exactly bode well for taking on an attack-minded Benfica side who outscored PSG to take top spot in their group.
Back again, Porto do love reaching this stage of the competition, but they very rarely go much further.
Sure, there is the odd quarter-final appearance should they get a kind last-16 draw, but they won't be seen as favourites by many when they take on Inter Milan, even though they'll play the first leg in Italy.
Five points off Benfica in the league, they don't quite have the calibre of player to take them too far this time around, although goalkeeper Diogo Costa is a star.
From beating Manchester City one week to losing 4-1 at Leicester the next, you really don't know what you're going to get with Tottenham from week to week, sometimes day to day.
Antonio Conte has had a tough trot of things of late, but the growing expectation that he will leave the club come the end of his contract in the summer can't be helping anyone, and although there is great individual talent there you do wonder if they can keep it together over 180 minutes against AC Milan.
The loss of Rodrigo Bentancur to injury is also a huge blow.