China Hits Back at U.S. Over Hong Kong Bill in a Mostly Symbolic Move
Beijing said it would suspend visits to Hong Kong by American warships and impose sanctions on several nongovernmental groups. The measures suggest China is wary of upsetting trade negotiations.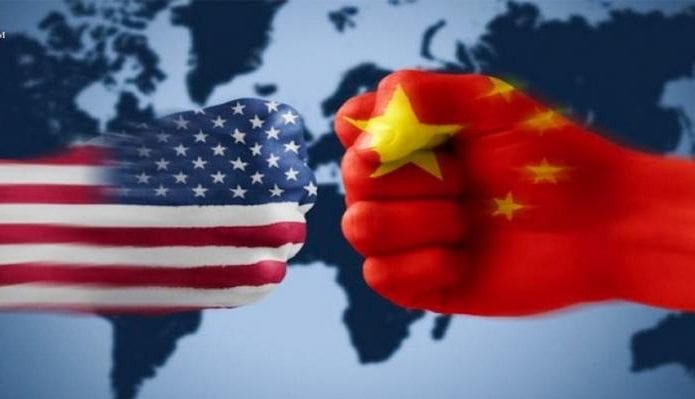 China said on Monday that it would suspend visits to Hong Kong by American warships and impose sanctions on several United States-based nongovernmental groups, in a mostly symbolic retaliation for tough human rights legislation President Trump signed last week.
Hua Chunying, a spokeswoman for the Chinese Foreign Ministry, said the measures were a response to the "unreasonable behavior" on the part of the United States. She denounced the new human rights legislation as illegal interference into its domestic affairs.
In her remarks, Ms. Hua also accused several organizations, including the National Endowment for Democracy, Human Rights Watch and Freedom House, of instigating violence during the antigovernment protests that have convulsed Hong Kong since June. It is unclear what form any Chinese sanctions on these groups would take.
Without citing evidence, Ms. Hua said these groups supported "anti-China forces in creating chaos in Hong Kong, and encouraged them to engage in extreme violent criminal acts."
"They have a large responsibility for the chaos in Hong Kong, and deserve to be sanctioned and pay the price."
China has responded to the new legislation with strong rhetoric, but the measures announced Monday suggested that Beijing was unwilling to let the dispute spill over into its trade negotiations with the United States.
It was unclear what impact, if any, the sanctions would have on the groups China has singled out for punishment. Most of the organizations Ms. Hua named do not have offices in mainland China. Foreign nongovernmental groups have already been subject to growing Chinese government pressure since 2016, when the country passed a wide-reaching law strictly regulating their operations in the country.
China has also previously denied permission to American naval vessels to dock in Hong Kong at times of heightened tensions between the two countries, most recently in August.
"It's nothing new," said Willy Lam, a political expert at the Chinese University of Hong Kong. "I think the major purpose of this is rhetorical: to try to convince the world that the U.S., whether it's the C.I.A. or the N.G.O.s, is trying to foment a color revolution in Hong Kong."
But with China's economy slowing and new tariffs looming, the rhetoric could only go so far. "China really needs this trade deal," Mr. Lam said.
China's reaction was widely expected. Last Thursday, China vowed retaliation after Mr. Trump signed the two bills, which authorized sanctions on officials responsible for human rights abuses and banned the sale of American-made crowd-control equipment to Hong Kong. Chinese officials in Beijing summoned the United States ambassador, Terry Branstad, over the law.
Hong Kong's police force has sought to put down months of increasingly violent anti-government protests with tear gas, rubber bullets and pepper spray. On Sunday, protesters waving American flags marched peacefully to the United States Consulate in Hong Kong to thank Washington for passing the law. Later in the day, protesters elsewhere clashed with police officers who fired tear gas — the first major confrontation since pro-democracy demonstrators scored a sweeping victory in local elections that were widely seen as a referendum on the movement.