China Warns Against 'Fueling Fire' In Ukraine War
Beijing also releases paper on Xi's wide-ranging flagship security plan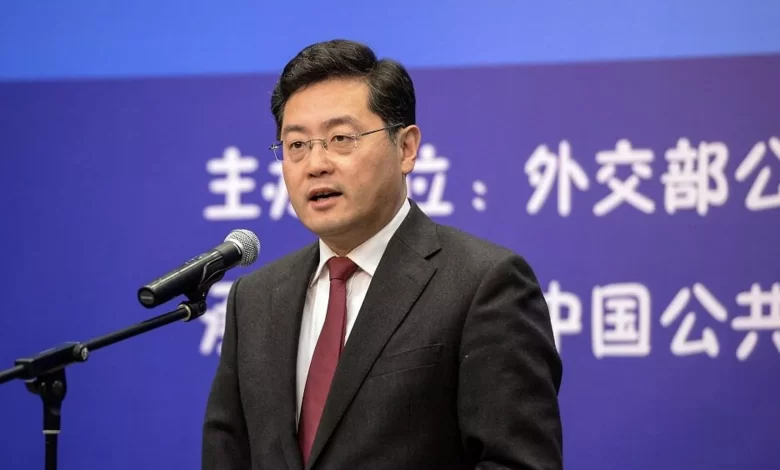 China called on Tuesday for an immediate end to actions it said were "fueling the fire" in the Ukraine conflict as Beijing unveiled a wide-ranging global security plan that extends to cooperation in artificial intelligence and outer space.
Portraying China as a global peacemaker, Foreign Minister Qin Gang issued a warning over escalating the nearly 1-year-old conflict sparked by Russian's invasion of its neighbor, which Beijing resisted criticizing as it struck a "no-limits" partnership with Moscow.
His comments came after U.S. President Joe Biden made a surprise visit to Ukraine on Monday and as Washington warned that China plans to supply military support to Russia, a claim that Beijing has denied.
Russian President Vladimir Putin is expected to deliver a speech later Tuesday about his plans for the conflict as it enters a second year.
"China is deeply worried about the escalation of the conflict and a possible spiral out of control," Qin said during a keynote speech in Beijing to the official Lanting Forum, a gathering of government officials, scholars and foreign diplomats to discuss China's foreign policy. "China will continue to promote peace talks, contribute ideas for a political settlement of the crisis and join the international community to promote dialogue and consultation. … We urge certain countries to immediately stop fueling the fire. Stop shifting blame to China and stop touting 'Ukraine today, Taiwan tomorrow.'"
Some critics have suggested that China's tepid stance on Russia's invasion could aid its own future incursion into self-ruled Taiwan, which Beijing sees as a renegade province.
Qin did not comment on Biden's visit or identify the countries that he blamed for aggravating the Ukraine war. But government mouthpiece the Global Times warned that Russia may deliver more a "aggressive counterstrike" in response.
Chinese officials have launched a diplomatic offensive following U.S. Secretary of State Antony Blinken's allegation over the weekend that Beijing may start supplying weapons to Russia, citing intelligence reports.
"We've been watching this very, very closely," Blinken told broadcaster ABC in an interview. "And for the most part, China has been engaged in providing rhetorical, political, diplomatic support to Russia, but we have information that gives us concern that they are considering providing lethal support to Russia in the war against Ukraine."
Blinken added that it was important for him to tell China's top diplomat, Wang Yi, that arms support would be "a serious problem."
Wang called for a negotiated settlement to the Ukraine war during a stopover in Hungary ahead of a visit to Moscow.
China's Foreign Ministry on Monday responded to Blinken's claim by saying, "It is the U.S., not China, that has been pouring weapons into the battlefield."
An expected Russian military offensive in the spring may well be "an inflection point" in Ukraine, said Derek Grossman, a senior defense analyst at the RAND Corp.
"To have China providing military assistance at this particular juncture is anathema to the Biden administration because Beijing has thus far remained out of the conflict and its support could prove valuable on the battlefield," he told Nikkei Asia. "It would also come at a time when U.S.-China relations continue to spiral, and if the U.S. has evidence China indeed is supporting Russia, then we could see a bottoming out of U.S.-China ties."
Beijing's goal is to "straddle both sides" of the Ukraine conflict, with Chinese President Xi Jinping expected to visit Russia this year, said Melvyn Levitsky, a former U.S. ambassador and professor of international policy and practice at the University of Michigan.
"They will also want to be careful not to alienate the U.S., which is a huge market for Chinese exports," he added.
Meanwhile, Taiwanese President Tsai Ing-wen said Tuesday that her administration is beefing up military ties with Washington to guard against what she called "authoritarian expansionism." Beijing launched weeklong military drills around the island following a visit by then-U.S. House Speaker Nancy Pelosi last summer.
In Tokyo, U.S. Ambassador Rahm Emanuel told reporters Tuesday that the claim of Chinese military support was based on reports from an intelligence community that accurately predicted last year's invasion, so "they have some credibility that they bring to this."
Speaking in Tokyo, Democratic U.S. Sen. Tammy Duckworth said that what is playing out in Ukraine is being watched carefully around the world, including in Taiwan.
"If we are to stand by while one nation ignores the sovereign territory of another and sends troops in to seize that territory with force in one place, then we will be saying that that is OK in other places around the world. And especially here in the Indo-Pacific region, that is an issue that we need to remain firm on," she added.
Qin's Tuesday speech coincided with the release of a concept paper on China's Global Security Initiative that outlined Xi's "major country diplomacy" goals with a wide-ranging plan aimed at eliminating the root causes of international conflicts.
It included a call for global rules on data security, artificial intelligence and other emerging technologies, as well as cooperation in space.