Christmas Train Strikes: French government considers reforming "minimum service"
A strike by train ticket inspectors means that two out of five trains risk being canceled on the week-end of Christmas.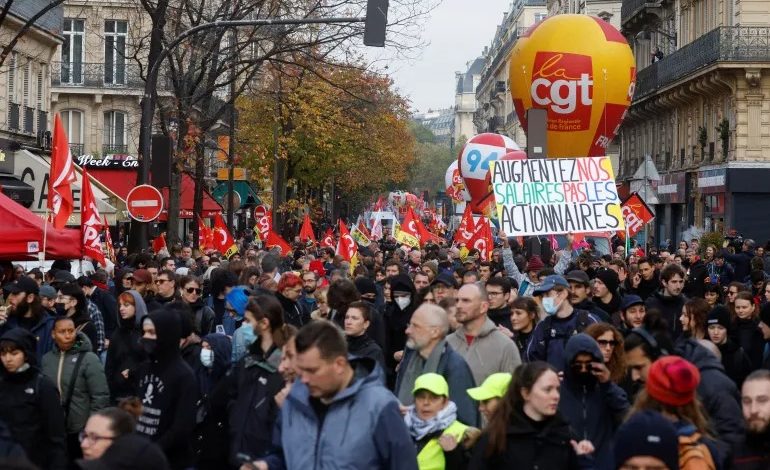 You can share an article by clicking on the share icons at the top right of it.
The total or partial reproduction of an article, without the prior written authorization of Le Monde, is strictly forbidden.
Emmanuel Macron is "infuriated," according to off-the-record leaks. Once again, you could say. After his outbursts over the slow pace of Covid vaccination, gasoline shortages and the solo ventures of over-ambitious ministers, the French president's anger has now turned against rail strikes, which could spoil Christmas celebrations for some 200,000 French people.
Mr. Macron told the council of ministers on Thursday, December 22, that this was unacceptable.
This time, the government was not his target – the unions and the national rail company SNCF are what irked him. "We have a company that is becoming used to tolerating strikes," he boomed.
Seeking to avoid future holiday season train stoppages, the government is feverishly looking for ideas. One possibility under consideration is to extend the time required for notice of a strike. This would need a bill amending the 2007 law on the minimum service level.
Read more
France set for Christmas train strike disruption
"We're seeing how an essential public service like the railroad can be hit almost overnight, impacting the lives of many of our fellow citizens harshly, unnecessarily and unfairly. This is why we're looking for a framework that will ensure continuous access to public services in all circumstances," government spokesperson Olivier Véran explained at the end of the council of ministers, regretting that "social dialogue is sometimes misused" to serve as "a banner for individual struggles."
However, such a system, which would significantly restrict the ability to strike, cannot be implemented at short notice. It is also unlikely that the government will embark on such a project, which would alarm the unions, before completing the thorny pensions reform, due for presentation on January 10, 2023.
Read more
Subscribers only

Tired and angry British healthcare workers confront government
In the meantime, what can be done, apart from joining in customers' rage? To impose demands would be illegal, warned Transport Minister Clément Beaune. And "it is not the government that is negotiating with the strikers, you shouldn't confuse things. The SNCF, which is a public enterprise, is responsible for negotiating with the unions," Mr. Véran noted. 'Uberization of social dialogue'
Back from an international tour that took him from the French national team's dressing room in Qatar to the shores of the Dead Sea in Jordan for a conference on the stabilization of Iraq, via a dinner with troops on board the aircraft carrier Charles-de-Gaulle, Mr. Macron is even more annoyed because he thought he would have a smooth end to the year.
The presentation of the pensions reform was postponed from December 15, 2022 to January 10, 2023 in the hope of more peaceful talks with unions and the opposition. Unfortunately, this failed to take into account the risk of "uberization of social dialogue" as Mr. Beaune observed.
The president is even more annoyed because he thought he would have a smooth end to the year
The strike, which for now will block trains from December 23-25, including the one the minister was hoping to take to visit his family in Provence, is not an initiative of the unions, but of a group of ticket inspectors formed a few months ago on Facebook.
This new reality plunges the SNCF and the government into total confusion. "We're facing something that never existed before in our country, a strike by multiple individuals," said Mr. Véran, imploring "those who are saying they'll strike to give up the idea, so that the public, who aren't responsible for any of this, can enjoy the Christmas holidays with their families."
In direct contact with Prime Minister Elisabeth Borne, who he's been talking to "every two hours" since Monday, Mr. Beaune admits the Christmas weekend is already hopeless.
After getting some concessions from the SNCF, which will reimburse 200% of canceled tickets – "the least they could do" for customers, Mr. Beaune said on Franceinfo – the government is working to develop alternative solutions, such as carpooling and buses. A race against time is underway to save New Year's Eve weekend. "Announcements will be made in the next few days," said Mr. Véran, promising the government was "working to ensure there will be no inconvenience to the French people on New Year's Eve weekend."
Economy Minister Bruno Le Maire expressed his "anger on behalf of customers who are deprived of their Christmas vacations," on Sud Radio on Thursday morning, calling on the SNCF to "find a solution in the next few hours" – going on to repeat "and I mean in the next few hours," – but a quick outcome seems out of the question.