Conflicting interests difficult to balance in Azeri-Armenian conflict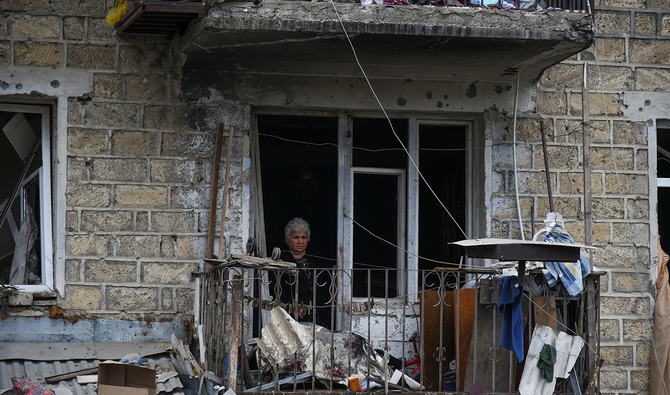 Armenian military confrontation that broke out last week contains the risks of further escalation because Azerbaijan seems to be militarily better prepared than in previous rounds.
Early 20th century US senator Hiram Johnson used to say that "the first casualty when war comes is truth." Amid this conflict, Azerbaijan has claimed that Armenia brought Kurdistan Workers' Party (PKK) militants from Iraq and Syria to fight against Azeris. In turn, Armenia claimed that a private Turkish security company recruited mercenaries in Idlib and brought them to Azerbaijan.
The search for peace in the region goes back to the 1990s, when a mechanism known as the Minsk Group was set up by the Conference on Security and Cooperation in Europe to help find a solution to the Nagorno-Karabakh conflict between Azerbaijan and Armenia. Observers joked at the time that this group was not created to solve the Karabakh issue, but to keep it unresolved. In fact, the Minsk Group has not achieved any tangible progress in the last 28 years.
When the latest outbreak of hostilities began, the leaders of the three Minsk Group countries — Russia, the US and France — called for an "immediate cessation of hostilities." Alluding to this call, Azeri President Ilham Aliyev said that his country had decided "to cut its own umbilical cord and that the military operations would stop only when Armenia agrees to sit at the negotiations table." Azerbaijan announced a "state of war" and canceled all international flights to and from Baku, except for those from Turkey.
Turkey's relationship with Azerbaijan is closer than that of regular ties between two neighboring countries. Turks and Azeris refer to each other as "two states, but one nation."
Amid the new clashes, Turkish President Recep Tayyip Erdogan pushed aside the calls for a cease-fire and said that "a cessation of hostilities would be possible only if Armenia ended its occupation of Azeri territory." He added that Ankara would extend to Azerbaijan whatever assistance it requested.
A detail that sometimes escapes the attention of the general public is that Nagorno-Karabakh is not Armenian territory. It was made an autonomous region within Azerbaijan by the Soviet Union in the 1920s. During the dissolution of the Soviet Union in 1991, this autonomous region declared its independence. Armenia supported its proclamation of independence and did not claim that the territory was part of Armenia. It still maintains this position.
The gist of the present conflict is that it is an Azeri attempt to liberate areas it believes are illegally occupied by Armenia, the latter having occupied seven other provinces that make up a fifth of the country's entire territory. More than a million Azeris became internally displaced as a result of this occupation.
Azerbaijan seems to be more determined to liberate its territories this time around.

Yasar Yakis
The occupation of these seven provinces is also rejected by the UN. There are four UN Security Council resolutions (822, 853, 874 and 884) calling for the withdrawal of Armenians from these territories. In the light of these resolutions, the call for a cease-fire — addressed to Azerbaijan — by the leaders of the Minsk Group countries is tantamount to the acquiescence of the continued occupation of the Azeri territories by Armenia.
The targets that the Azeri military authorities have chosen indicate that Azerbaijan this time plans more sustained attacks on the strategically important corridors and hills. Therefore, it seems to be more determined to liberate its territories.
The size of a country's army cannot, of course, be taken as the only criterion for comparative strength, but the Azeri army is bigger in size than Armenia's. Azerbaijan's population is nearly four times bigger than Armenia's, hence its capacity to recruit fighters. And Azerbaijan's defense budget alone is equal to more than half of the entire national budget of Armenia.
Despite this, a comparison of guns and ammunition between the armies of these two countries is not very meaningful because of the Russian factor. Russia has a military alliance with Armenia, known as the Collective Security Treaty Organization. There is a Russian military base in the Armenian city of Gyumri and 4,500 Russian border guards are still responsible for guarding Armenia's borders with Turkey and Iran. We do not yet know the extent of the support Russia might extend to Armenia under Prime Minister Nikol Pashinyan. The latter's inclination toward the US is well known by Russian President Vladimir Putin.
There are at least five additional complicating factors that make the comparison even more difficult. One of them is Turkey's predisposition to support Azerbaijan. Second is the magnitude of the risk for Armenia if it loses this battle. Third is Russia's interest in driving a wedge in Turkey-NATO relations. Fourth is Turkey's entanglement in too many conflicts at the same time, as it is also involved in Syria, Libya and the eastern Mediterranean. And fifth is France's interference in every conflict where Turkey is involved.
This time around, a balance will be more difficult to strike between the interests of all these stakeholders.
By: 
• Yasar Yakis