Cristiano Ronaldo breaks world record for international caps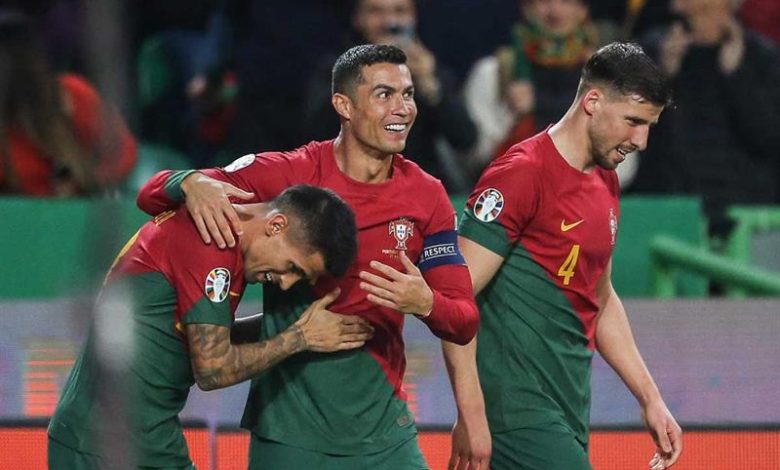 The 38-year-old Portuguese international broke the record for the number of national team caps on Tuesday, playing his 197th match with the Seleção against Liechtenstein. Cristiano Ronaldo is ahead of the Kuwaiti Bader Al-Mutawa who held this record so far with 196 caps.
Cristiano Ronaldo set a new world record for men's national team selections by playing his 197th match with Portugal against Liechtenstein on Thursday March 23 in Lisbon for qualifying for Euro-2024.
The 38-year-old striker, playing in the Saudi club of Al-Nassr, started at the start of this first meeting of the Seleção qualifying campaign towards the European championship organized in Germany and thus doubled the Kuwaiti Bader Al-Mutawa (196) with whom he shared this record until then.
"I like breaking records, that's my motivation, I want to become the player with the most caps in history, it would be something, I admit, that would make me proud. But it doesn't stop not there, I would still like to be called up very often in the selection during my career", had warned Cristiano Ronaldo the day before at a press conference.
Almost 20 years of international career
'CR7' honored his first cap August 20, 2003, at 18 years, 6 months and 15 days, coming into play in a friendly match against Kazakhstan. Portugal was then coached by the Brazilian Luiz Felipe Scolari.
In almost 20 years of international career, the Portuguese captain has faced 70 different nations and participated in all major international competitions since Euro-2004, five European Championships and five World Cups. He won the first two major trophies in the history of his country: Euro-2016 and the League of Nations 2019.
The five-time Golden Ball already held the world record for goals in selection since September 1, 2021 by overtaking, thanks to a double against Ireland, the Iranian Ali Daei and his 109 achievements. Cristiano Ronaldo scored his first international goal against Greece at the opening of Euro-2004 held in Portugal.
He has thus accumulated two of the most important records in men's football.