Crowds Of Tishreen Flock to Baghdad… And Security Closes the Perimeter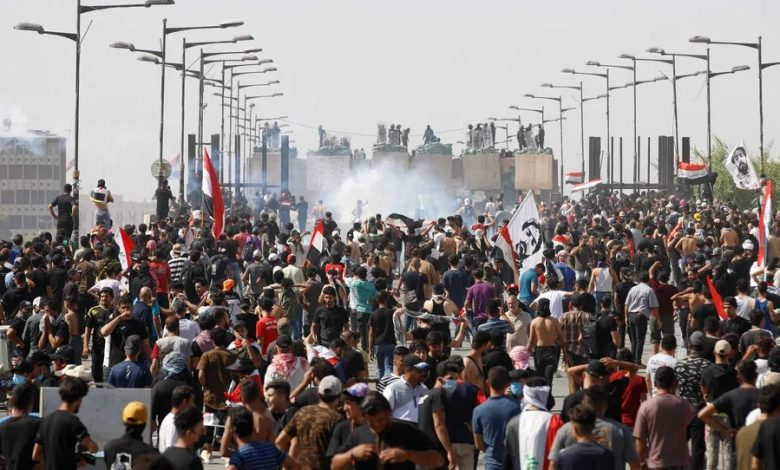 Iraqis began flocking to the center of the capital, Baghdad, on Saturday, following recent calls to commemorate the "October protests" that broke out across the country in 2019 and left hundreds dead and thousands injured. .
Meanwhile, security forces blocked a number of bridges and roads leading to the Green Zone, according to our reporters.
To commemorate the third anniversary of the Tishrin movement, hundreds of demonstrators gathered in Tahrir Square under tight security.
At the same time, Yahya Resul, the Spokesperson of the Commander-in-Chief of the Armed Forces, confirmed that the security forces were instructed to prevent the use of weapons against the demonstrators today.
Don't use a gun
Prime Minister Mustafa Al-Kazemi, on the other hand, emphasized that security forces should categorically not use weapons against protesters, and also called on the demonstrators to cooperate with security in the protection of state institutions. .
These directives came after the capital had recently witnessed several clashes between security and protesters that left dozens dead and injured.
Also, the memory of hundreds of people killed by security bullets and pro-Iranian militias in the country years ago in the process known as the "October Revolution" came as fresh in Iraqis' minds.
Complete paralysis
It is noteworthy that Iraq has witnessed a complete political paralysis since the early parliamentary elections, which took place on 10 October 2021, with the two sides of the most obvious conflict worsening since July 2022 (Muqtada al-Sadr and the Coordination Framework), on the street. exit and sit-ins in central Baghdad.
The dispute culminated in the Sadr movement's demand more than two months ago to dissolve parliament and hold early elections to put the country on a path of reform, in light of the rejection of this approach by its opponents. to form a government with candidates before any new election.
The conflict escalated into violent clashes between the two sides in central Baghdad in late August (2022), which killed 30 people, opening the door to the then dangerous possibility of a re-escalation.