Dabaiba militias mobilize near Tripoli airport, Libya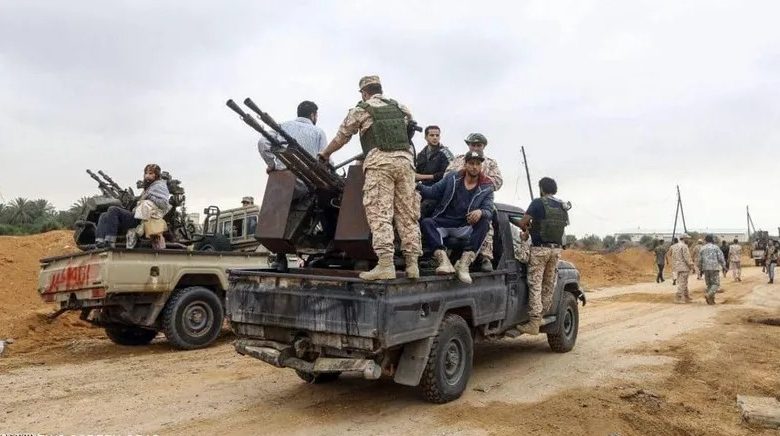 The Libyan forces loyal to the government of national unity headed by Abdel Hamid al-Dabaiba are carrying out military mobilization operations near the old Tripoli airport in preparation for storming the Warshafana area, the stationing point of Juwaili forces and forces loyal to Bashagha who were expelled from Tripoli in the last war.
The sources indicated that forces led by Muammar al-Dhawi, loyal to Bashagha, closed the roads leading to Warshafana, fearing the advance of Dabaiba's forces.
According to the sources, Dabaiba's Chief of Staff threatened Bashagha's forces if they did not withdraw using drones, as happened in the recent clashes.
On the other hand, medical sources told the event that the ambulance services had raised the state of alert after an order from a health official close to one of the armed formations in Tripoli.
Yesterday, Wednesday, the Ministry of Interior in the Fathi Pashaga government accused the forces loyal to his rival, Abdel Hamid Dabaiba, of using prohibited weapons during the recent clashes in the capital, Tripoli, which led to the killing of 32 people and wounding dozens.
In a statement on Wednesday, Issam Abu Zreibeh called on the team of experts of the Security Council Sanctions Committee and the diplomatic missions of the five permanent countries of the Security Council and the European Union, to investigate the use of prohibited weapons by Dabaiba forces in the recent Tripoli clashes.
It is noteworthy that in the recent confrontations that took place in Tripoli about two weeks ago between armed militias loyal to Bashagha who tried to enter the capital to take over power, and militias supporting Dabaiba who repelled the attack, military sources spoke of the use of drones by Dabaiba loyalists.
Added that this matter played a decisive role in tipping the scales of the battle in favor of Dabaiba, in addition to the use of various medium and heavy weapons.
These mutual and continuous accusations between the two parties competing for power open the door to speculation about the possibility of a new confrontation, in light of the blockage of the horizon for dialogue and a solution and the continuation of military build-up on the outskirts of Tripoli, despite international and international pressures to prevent the option of resorting to the military option to resolve this conflict.