Dahlan warns against turning political conflict into religious conflict with Israel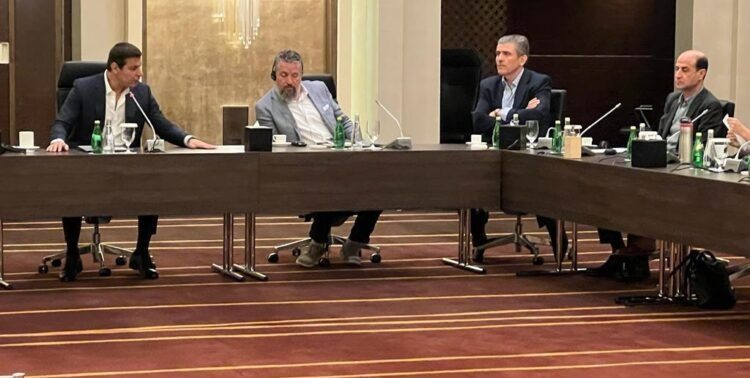 Palestinian leader, Mohammed Dahlan, warned against turning the political conflict with the Israeli occupation into a religious conflict due to the continuation of the Judaization policy and storming Al-Aqsa Mosque, noting that this would constitute a ticking bomb that threatens everyone, and will have negative effects on the Middle East and the world.
Dahlan reviewed with an American delegation, on Thursday, his vision of the resolution of the Palestinian-Israeli conflict and the steps should be followed to achieve the two-state solution in the light of the Israeli policy carried out for twenty years of colonization, of Judaization and the policy of apartheid, which constitutes an obstacle that made the two-State solution difficult as a strategic option to end the conflict.
Leader Dahlan received a US delegation that included Robert Nicholson, head of " Philos project", and a team of 20 project participants, including US federal government workers, national security specialists , graduate students, journalists and human rights defenders.
He said that the implementation of any agreement must include the approval of the Palestinian, Israeli and American conditions, and any absence of these approvals can constitute an obstacle to the implementation of any agreement, specially the two-state solution, we should not be too optimistic about it because there are many obstacles on the ground that stand in the way of its implementation.
He added, there must be a US administration able to suggest the two-state solution into practice that may help to success the peace process and the pursuit of the two-state solution as a strategic option.
Dahlan pointed out during the meeting that Israel's continued actions to destroy the two-state solution through its systematic steps on the ground and the absence of American pressure, so the best solution is work on "one state" option which puts Israel's democracy to the test, by establishing one state for all its citizens with equal rights and duties.
It should be noted that Dahlan recently presented before a political conference the one-state solution as the best option for ending the Palestinian-Israeli conflict.