Davutoglu announced the establishment of the "vote rate"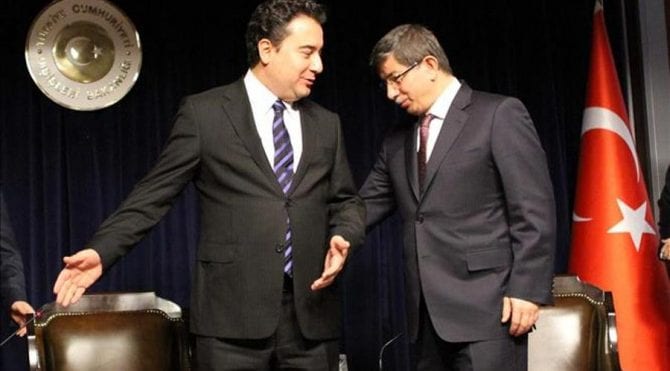 Ahmet Davutoglu is expected to announce his new party in November. He even instructed his team in Konya to bakın see the building for the provincial presidency '. Former AKP MP Ömer Ünal made important statements about the new party. Preparing for the new party to be completed by Davutoğlu'nun indicating that the completion of Omer Unal, the new party will be announced in late November, said Ankara.
"PARTY REGULATIONS 95 PERCENT READY"
Stating that the list of founders of the new party is ready, Ömer Ünal said, birçok Many preparations for Ahmet Davutoğlu's new party have been completed. The party's charter and program are considered 95 percent ready. The list of founders is ready. He is working on many alternatives for the party's name and logo. The name and logo of the party will also be available soon. For the provincial organizations, the city building is looked after in many cities. In a short time, the locations of our provincial presidencies will be certain. "
GÖR INTERVIEWS WITH MANY OTHER PEOPLE CONTINUING DEV
Unal said that many people from other parties wanted to meet with Ahmet Davutoglu for the new party. These include the current deputies and executives. Ahmet Davutoğlu would like to meet with our teacher. Not only the AK Party, other parties are also provided with some names. For example, the former MHP Deputy Chairman was also interviewed with a name. Meetings with some names from the Felicity Party were also provided. When the time comes, these names are shared with the public. "
IZ WE WILL TRY TO REACH ALL SECTORS OF THE SOCIETY "
Explaining that the new party, which is expected to be announced, will be a party representing people from all walks of life, Ömer Ünal said, parti The party that will be established in our new operation will be a party in the center and we will try to reach all segments of the society. For this purpose, working groups from each job and profession were formed. We have serious studies especially for our young people and women..
"A POLITICAL ALLIANCE WITH ALI BABACAN'S PARTY CAN BE ESTABLISHED"
Ömer Ünal stated that their paths will intersect with the new party to be established by Ali Babacan and Abdullah Gül. "We are in talks with Abdulah Gül and Ali Babacan. It's hard to predict what progressive processes show us. A lot can change in politics in 24 hours. But I think if Abdullah Gul and Ali Babacan establish a party, our paths will cross somewhere. A political alliance can be established as two separate parties ".
OY OUR PARTICIPATION INCREASED OUR PARTICIPATION RATE TO 13 PERCENT OY
Ömer Ünal stated that both they and the independent survey companies had made surveys for the new party to be established and said, biz Both us and independent survey companies have a survey about the new parties and the votes of other parties. According to the results of the survey, the AK Party's game fell below 30 percent. This shows how much the AK Party is now separated from the public. With the presidential system, we see that economy, health, agriculture and industry lose every passing day. Our people clearly see the situation of the AK Party. Before we announce our party, our vote rate is around 13 percent. Once our party is established and set out, our vote will increase even more. Because our society has an expectation from us, we see it clearly. "