Death Toll in Turkey and Syria Earthquake Tops 41,000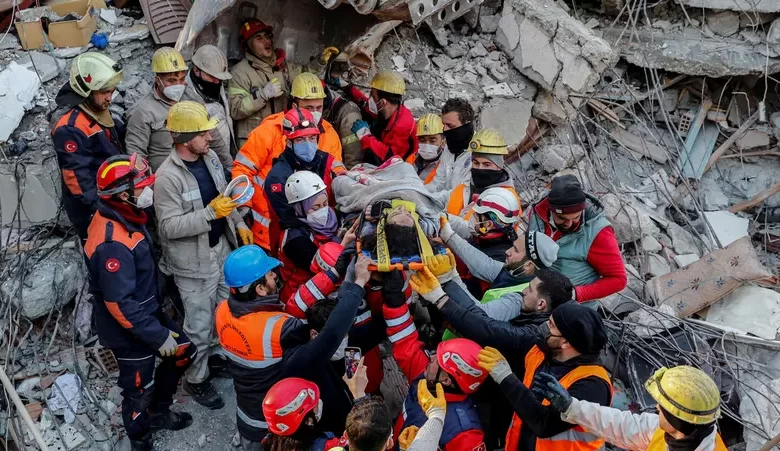 More than 41,000 people are dead after a 7.8 magnitude earthquake rocked southeastern Turkey and northwestern Syria on Feb. 6, according to Turkish and Syrian officials.
The figure comes over a week after the deadly earthquake which the World Health Organization described as the worst natural disaster in 100 years.
Despite passing the 'golden window' of 72 hours, the period in which rescuers have the best chance of finding survivors, there are still stories of babies, children and adults being pulled from the rubble alive. 
Turkey
On Tuesday, Turkish President Recep Tayyip Erdogan announced that more than 35,000 people died in the earthquake in Turkey, making it the deadliest disaster since the country's founding 100 years ago. Previously the grisly record was held by the 1939 Erzincan earthquake which killed 33,000 people.
Erdogan visited survivors in hospital, and has vowed to replace the thousands of homes that were destroyed in ten regions within a year, a promise which seems unlikely given the scale of the rubble still to be searched and cleared.
Survivors of the earthquake have been left homeless and struggling to meet basic needs, like finding clothing, shelter and food in the bitter cold. The emotional toll of such a large scale tragedy is also weighing on survivors, many of whom have lost family members and friends. 
Presidential and parliamentary elections had been planned in Turkey for the 14 May, but given the fallout from the earthquake, there is speculation they will be delayed by the President.
Syria
In Syria, the situation is particularly desperate. Over a decade long civil war has complicated relief efforts, alongside the winter conditions and an ongoing cholera outbreak.
Prior to the earthquake in early 2023, the UN found that some 15.3 million people in Syria were deemed to require humanitarian assistance, an all-time high for the country which is entering its 12th year since hostilities started.
Sanctions imposed on the country have  limited the routes into the country for aid workers and supplies, and delays in temporarily lifting them has resulted in a slow response to a situation where time is of the essence.
On Tuesday, relief finally reached rebel-held Syria, which has been disproportionately affected compared to government-controlled areas, through a newly-opened crossing into the north west of the country.
As of 12 February, in Syria at least 5,791 people have reportedly been killed, 4,377 of them in north-west Syria with many still trapped under the rubble.
The UN launched a flash appeal yesterday for more than $397 million in order to provide "assistance to the 4.9 million people with the most urgent humanitarian needs over the next 3 months".
They estimate that 8.8 million people have been affected by the earthquake in Syria, almost 40 per cent of the population.