Demonstrations Against Judicial Reform Continue For 39th Week
x Israeli media reported that about 85,000 demonstrators took to the streets of "Tel Aviv" in protest against the judicial amendments.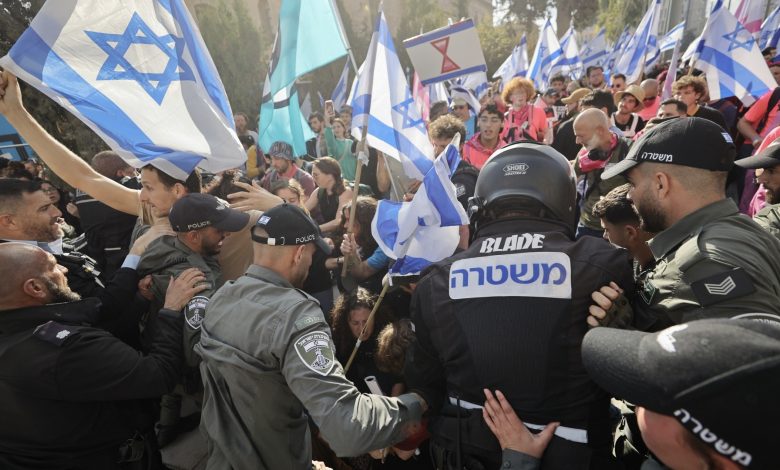 Israeli media reported that about 85,000 demonstrators took to the streets of "Tel Aviv" on Saturday evening, to protest the judicial amendments.
The judicial reforms, proposed by Israeli Prime Minister Benjamin Netanyahu's government, continue to provoke a sharp division in "Israel", prompting one of the most significant protest movements in its history.
These protests have extended widely into the security and military establishment, especially among reservists where a significant number of them have declared their refusal to serve in the occupation army.
In "Israel", settlers are required to serve a mandatory term in the occupation forces, after which they have the freedom to commit themselves to its reserve force, where they would be called into service at any given time.
At the same time, the Eritrean battle continues within "Tel Aviv" after it was launched earlier in September. In the most recent clashes between opponents of the regime in Eritrea and its supporters, 10 settlers were wounded, according to Israeli media.
The Israeli military and its security services are heavily dependent on its reserve force to carry out its missions, especially in times of turmoil.
Amnesty Int. unreliable reports pushing for Eritrea regime change
Amnesty International recently issued a report accusing the Eritrean government of horrifying war crimes. The report predominantly relies on anonymous testimonies, and low-quality satellite images, and lacks on-the-ground investigation.
Eritrea, a compact nation boasting a strategically important Red Sea coastline, stands firmly independent. It is among just two African countries that have opted not to engage with AFRICOM, the US Africa Command.
A report by the Grayzone has qualified Amnesty's publication as the most recent effort in the Western campaign aimed at destabilizing the nation's autonomous government.
Committed to a gradual, self-sustaining development approach, Eritrea has consciously avoided taking on debt from organizations like the IMF or World Bank. Furthermore, it stood as the sole African country to cast a dissenting vote during the March 2, 2022, UN General Assembly resolution condemning Russia's military operation in Ukraine and urging an unconditional withdrawal.
As expected, Eritrea faces persistent scrutiny from the Western human rights advocacy network, which aligns with the interests of NATO member states.