Egypt, Greece Strengthen Bilateral Relations In Summit Talks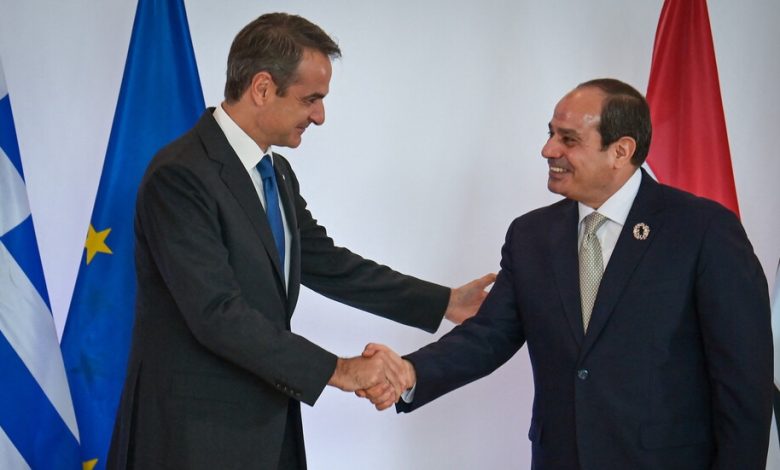 Egypt and Greece: A Model of Bilateral Cooperation
Egypt and Greece have been fostering strong mutual relations across political, economic, and cultural spheres, setting an example of successful bilateral cooperation for the benefit of their people. Recently, in the new city of Alamein, President Abdel Fattah al-Sisi and Greek Prime Minister Kyriakos Mitsotakis held summit talks, marking the first visit of the Greek prime minister to the region since his re-election and the formation of his new government. The meeting showcased the depth of strategic relations between the two countries, with a focus on enhancing cooperation in various sectors and addressing regional challenges.
President Sisi and Prime Minister Mitsotakis Emphasize Strong Ties
During the summit talks, President Sisi praised the distinguished strategic relations between Egypt and Greece, expressing appreciation for the tangible development in various fields and the political coordination on mutual interests. On the other hand, Prime Minister Mitsotakis emphasized the historical ties that unite the two nations and welcomed the progress made in cooperation over the past years. The leaders discussed ways to further enhance bilateral cooperation, rapid implementation of agreements and memorandums of understanding, and the promotion of military, economic, and cultural collaboration. The energy sector, including natural gas and electrical interconnection, as well as cooperation in green transformation sectors, were also addresd.
It is worth mentioning that the value of trade between Egypt and Greece witnessed an increase of 2.2 billion dollars in 2022 compared to 2.1 billion dollars in 2021. According to the report of the central agency for public mobilization and Statistics, the value of Egyptian exports to Greece increased to 1.7 billion dollars in 2022 compared to 1.6 billion dollars in 2021 with an increase of 5.3%, and commodity groups accounted for 95.8% of Egypt's total exports to Greece in 2022 with a value of 1.629 billion dollars. The value of Egypt's exports to Greece of paper amounted to about 13.5 million dollars, of copper and its manufactures about 13.3 million dollars, and various chemical products about 7.5 million dollars.
Addressing Regional Challenges and Shared Interests
Apart from strengthening bilateral ties, the leaders exchanged views on regional issues of mutual interest, with a focus on the Eastern Mediterranean region and the Eastern Mediterranean Gas Forum. They also discussed efforts to combat illegal migration in the Mediterranean basin and Egypt's efforts in handling the refugee crisis. Moreover, they addressed the developments in the Russian-Ukrainian crisis and the existing crises in the region, particularly in Libya. Both leaders agreed to continue intensive coordination to address common challenges and work toward peace, security, and stability in the region.