Egypt, Sudan holds talks on military cooperation
The talks are set to continue on Sunday with an extensive meeting that will see a review of the outcomes of previous talks and sets a time frame for implementation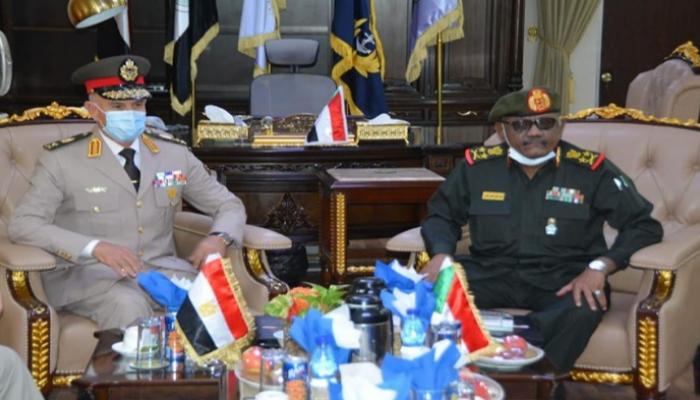 According to an official statement, Egyptian armed forces spokesman Tamer El-Refaie said Farid held discussions in Khartoum as he led a top delegation that included the institution's main military branches.
Egyptian armed forces' chief of staff, Lt. General Mohamed Farid, held on Saturday talks on joint cooperation with his Sudanese counterpart and defense minister during his visit to Sudan.
The talks mulled implementation procedures to the outcomes of a visit by the head of Sudan's Sovereign Council Abdel-Fattah Al-Burhan to Cairo last week, where both countries' leaderships agreed on the need to accelerate developing military cooperation fields between the two countries to bolster their capabilities in facing challenges to their regional security and common interests.
Discussions began at a bilateral meeting with Sudan's chief of staff, Lt. Gen. Mohamed Osman Al-Hussein, where they stressed on the special relations and ties between both countries.
An extensive meeting by Egyptian and Sudanese officials followed, where they reviewed ongoing regional challenges and the means of developing fields of current military cooperation as well as, launching new fields that correspond to the gravity of current challenges and fulfil the aspirations of both countries.
They agreed on executing several training activities to all the armed forces' branches in the upcoming period with intensifying cooperation in the fields of training and rehabilitation, an exchange of expertise, securing borders and combating terrorism alongside other fields.
The Egyptian army chief of staff stressed on the armed forces' doctrine in considering Egypt's military capacity an asset to Sudan and likewise.
He also met Sudan's defense ministry, where they mulled the special ties between both countries and their armed forces in creating the suitable conditions and climate to launch new aspects of mutual military cooperation.
The talks are set to continue on Sunday with an extensive meeting that will see a review of the outcomes of previous talks and sets a time frame for implementation.