El-Sisi, Burhan discusse regional issues of common interests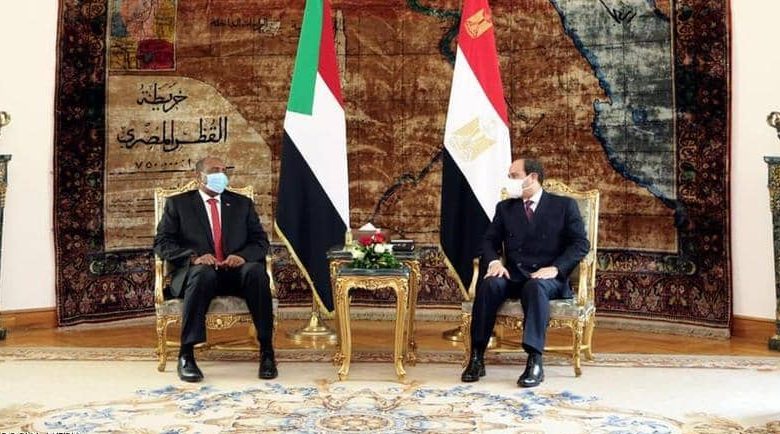 Egypt's El-Sisi received on Tuesday Chairman of the Transitional Military Council of Sudan Lt. Gen. Abdel Fattah Al-Burhan at El-Etehadiya palace, according to Presidency Spokesman Bassam Rady.
The meeting was also attended by Electricity Minister Mohamed Shaker, Head of the Egyptian General Intelligence Service (GIS) Abbas Kamel, and Egyptian Ambassador to Khartoum.
At the outset of the meeting, Sisi hailed the eternal ties that unite the people of the Nile Valley, the historical bond between Egypt and Sudan, as well as the unity of destiny and the common interest that binds the two brotherly peoples.
The Egyptian president also affirmed Egypt's full support to Sudan's security and stability, and its keenness to continue cooperation and coordination with Sudan at all levels, stressing that joint development projects will be expedited, including, electrical linkage and a railway connecting the two countries.
The Sudanese leader reviewed the latest developments in Sudan and efforts to deal with the situation there, foremost of which, the signing of the Juba peace agreement between the Sudanese transitional government and other armed movements.
In turn, Burhan hailed the close relations between Egypt and Sudan, praising the existing efforts to enhance the bonds of mutual cooperation in various fields.
In this regard, Burhan praised Egypt's unlimited support to maintain stability and security in Sudan during this transitional phase.
Moreover, both leaders discussed various regional issues of common interests, including the latest developments of the GERD file in light of the current trilateral talks between Egypt, Sudan, and Ethiopia under the auspices of the African Union (AU).
In the same context, Sisi and Burhan underlined the importance of the water issue for the Egyptian and Sudanese peoples, as a matter of national security, agreeing on the need to reach a binding agreement on the filling and operating of the dam.