El-Sisi calls international community to play an influential role to resolve Renaissance Dam issue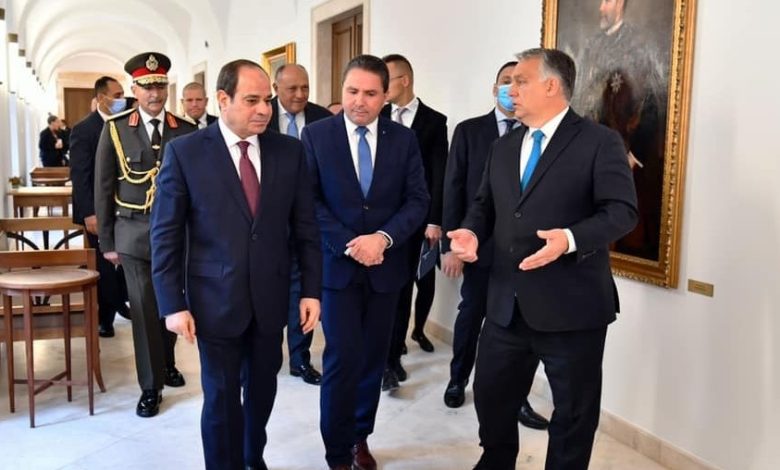 Egypt plans to inaugurate the NAC — which is set to house 6.5 million people — later this year and relocate tens of thousands of government employees there.
In a press conference with Orbán in Budapest, El-Sisi said the inauguration of the new capital will be "a declaration of a new republic" in Egypt after the "difficult period" the country witnessed over the past decade.
During the presser, El-Sisi hailed Orbán's "continuous support for Egypt in the past years and his confidence that Egypt will overcome the hard circumstances it passed through in 2011, 2012, and 2013."
El-Sisi also agreed with Orbán on boosting cooperation between the two countries in agriculture, tourism, and various industries, affirming Egypt's keenness to benefit from Hungary's technological capabilities.
The president reiterated his call to secure stability in countries within the region, saying that it is a prerequisite to blocking illegal migration to Europe, noting that illegal migrants use beaches and seaports of unstable countries in the region to reach Europe.
Orbán said that Egypt's ability to protect its land and maritime borders is "essential" for Hungary and Europe, Hungary Today reported.
He hailed Egypt's success in combating illegal migration since 2016, saying that it is a huge contribution to Hungarian security and the entirety of Europe.
El-Sisi also held a meeting with Hungarian President János Áder and laid a wreath on the Tomb of the Unknown Soldier in Budapest's Heroes' Square on Wednesday.
El-Sisi has been on an official visit to the Hungarian capital since Monday and attended on Tuesday a summit for the Visegrád Group (V4) in which he tackled Egypt's efforts to fight terrorism and block illegal immigration to Europe.
In his meeting with Orbán on Wednesday, El-Sisi expressed his aspiration that Hungary's current presidency of the V4 sees progress in different cooperation fields with Egypt, a statement by the Egyptian presidency read.
El-Sisi affirmed Egypt's reliance on Hungary to deepen Egyptian relations with the V4.
Regional issues, peace process
During the meeting, Orbán applauded Egypt's positive role in working to achieve a political settlement to the current crises in its regional surroundings, the statement read.
He also lauded Egypt's enhancement of dialogue among African, Arab, and European countries, as well as its efforts to combat extremism and establish the values of tolerance, freedom of choice, and acceptance of others.
El-Sisi and Orbán agreed on the need to intensify international efforts to revive the Israeli Palestinian peace process and resume negotiations in a bid to reach a settlement for the Palestinian crisis based on international legitimacy resolutions.
Egypt, Sudan, and Ethiopia recently expressed their readiness to engage in the African Union-sponsored negotiations to resolve their decade-long dispute over the mega-dam Addis Ababa is building on the Blue Nile.
Concerning the Grand Ethiopian Renaissance Dam dispute between Egypt, Sudan, and Ethiopia, El-Sisi affirmed Egypt's commitment to the negotiation track, emphasising the need for the international community to play an influential role to resolve this very prominent issue that affects Egypt's water interests.
Boosting investments
Additionally, Orbán voiced Hungary's keenness to boost joint investments and maximise trade exchange with Egypt, especially by allowing Hungarian companies to participate in implementing national mega projects in Egypt.
The Hungarian PM affirmed his country's willingness to enhance cooperation and coordination with Egypt on all levels in light of Egypt's pivotal role as a pillar for stability, security, and peace in the Middle East and Africa.
During the presser, Orbán thanked El-Sisi for calling on major Hungarian economic players to play a role in developing Egypt's economy.