Erdogan: Turkey, Israel are the best winners from the normalization process in the region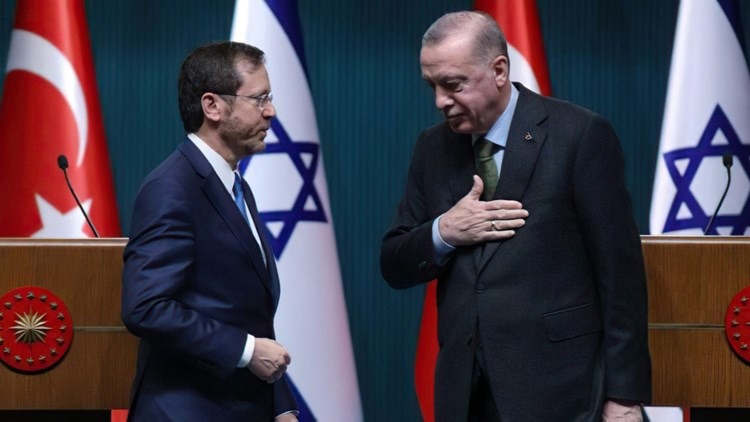 President of the Turkish regime, Recep Tayyip Erdogan, announced that Turkey, Israel are the best winners from the normalization process in the region, praising Israeli President Isaac Herzog.
Erdogan said that Herzog is currently following a patient approach and that he is willing to continue relations with Israel with a permanent approach based on common interests and respect for mutual sensitivities.
Erdogan's statements in response to journalists' questions about the future of relations with Tel Aviv after preliminary reports about Benjamin Netanyahu's victory in the elections, which were held on the first of November.
Erdogan added, "We hope that relations will move forward in all fields by continuing mutual meetings, and we believe in diplomacy that everyone is a winner, and that Turkey and Israel are not only the winners from the normalization process, but the entire region as long as our sensitivities are respected."
Erdogan said that fruitful meetings were held with Israeli officials during the process of normalizing relations between the two countries.
He said: "Mr. Herzog received us at the presidential palace last March, and then we had constant phone calls. On the seventeenth of August, we mutually announced the decision to appoint ambassadors and raise the level of diplomatic relations to the highest level.
It is noteworthy that Turkish-Israeli relations witnessed a complete break during the era of Benjamin Netanyahu, who led the Israeli elections on the first of this month and is preparing to form the new government.
Erdogan stated that he met Israeli Prime Minister Yair Lapid in New York on the sidelines of his visit to attend the United Nations General Assembly and that he received Israeli Defense Minister Benny Gantz during his visit to Turkey last week.