Fans react after Salah posted a Christmas photo for the third time in a row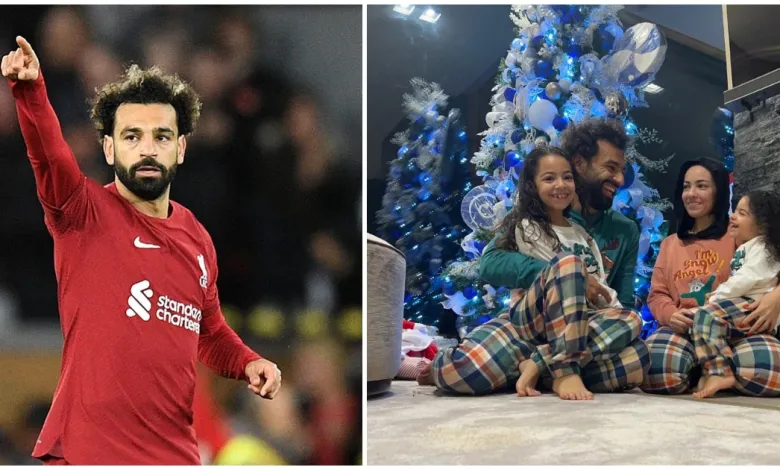 Egypt and Liverpool star Mohamed Salah has once again taken the lead by wishing fans around the world a Merry Christmas.
The Liverpool winger put on weight social media to post a nice photo with his family to celebrate the moment.
Salah is Muslim and doesn't celebrate Christmas and according to some fans, it's wrong for the former Chelsea player to share the moment with Christians.
Italian rugby in racism row after Guinea-born star embroiled in banana joke
He has been in England since the Reds began mid-season training ahead of their return to the English Premier League.
The Egyptian striker scored on his return to the competition as Liverpool were eliminated from the EFL Cup after losing to Manchester City.
How fans reacted to Salah's post
@julietbawuah wrote:
It's that time of the year of Mo Salah again. Consistency is the key! The Salah household wishes you a Merry Christmas.
@elamin88 tweeted:
My favorite Christmas Eve tradition is when Mo Salah posts his annual Christmas tree photo and then gets a lecture from every grumpy Muslim uncle about why that is haram, and then the post evolves into whether a single Christmas tree will wipe out the entire ummah
@EricNjiiru added:
Merry Christmas from Mo Salah. Another year for people who fret and make unnecessary noise.
@StokeyG2 posted:
We have a Christmas picture of Mo Salah… The Salah curse is back.
Watch the chaos erupt during the Man City v Liverpool game
@Ike_Obiara commented:
The long awaited picture is here. Let the rattles start to spasm. Merry Christmas Mon
@Sabah07 tweeted:
Please delete
Salah scores in EFL Cup
Previously, sports letter reported Mohamed Salah and Riyad Mahrez scored within 60 seconds as Manchester City edged out Liverpool in the EFL Cup.
City's Algerian striker Mahrez put the English champions ahead with a fine goal two minutes after the break.
His celebrations didn't last, however, as Salah immediately fired back after hitting a pass from Darwin Nunez.