FIFA shakes up the list of "Dean of the World Players" with a decision that is decades late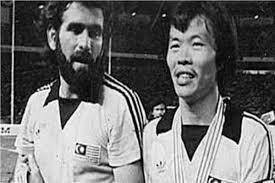 The International Football Association "FIFA" issued the official list of the world's most participating players with their national teams throughout history, to reveal a new surprise, which delights Malaysian football and frustrates many stars.
Malaysian surprise
Malaysian Chen An Soo topped the list of the dean of world players in a big surprise despite his retirement from playing, to come to the achievement at the age of 71, after FIFA accepted the request of the Malaysian Federation to record the player's matches.
Chen played internationally during the period between November 1969 and October 1984, and FIFA officially scored 195 international matches for the player with his country, placing him on the throne of the dean's list of world players.
loss of mutawa
Kuwaiti Bader Al Mutawa He celebrated the title of Dean of World Players a few weeks ago, reaching 185 matches, breaking the Egyptian record, Ahmed Hassan, who played 184 matches, to bring the Malaysian and take away the title.
Bader Al-Mutawa, 36, is now required to play 10 matches to equal the number of the former Malaysian player, which makes the matter more difficult.
Ronaldo shock
The news came as a shock to Cristiano Ronaldo, who equaled Ali Daei's number and became the world's top scorer historically at the national team level.
Ronaldo, who turns 37 next February, fell to sixth place in the list with 179 games, one game behind veteran Spaniard Sergio Ramos, who slipped to fifth place.
Ronaldo He is now required to play 16 matches to equal Chen's number, and the matter becomes very difficult, despite the Juventus star not talking about his retirement date, and his constant willingness to continue in the stadiums to an unprecedented record in the first level in the major leagues.
The list of the dean of world players after the August 2021 update from FIFA:
1 – Chin An Su – Malaysia – 195 matches
2- Bader Al-Mutawa – Kuwait – 185 games
3- Ahmed Hassan – Egypt – 184 matches
4- Ahmed Mubarak – Oman – 182 matches
5- Sergio Ramos – Spain – 180 games
6- Cristiano Ronaldo – Portugal -179 games
7- Mohammed Al-Deayea – Saudi Arabia – 178 matches
8 – Claudio Suarez – Mexico – 177 games
9- Gianluigi Buffon – Italy – 176 games
10- Amer Shafei – Jordan – 171 matches