Algerian Foreign Minister Sabri Boukadoum: Libya's division will be danger for the neighboring countries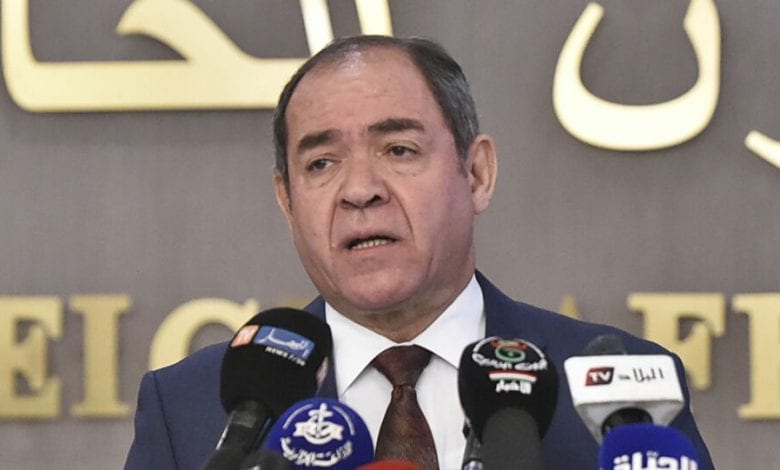 Algerian foreign minister has expressed his country's keenness on resolving the Libyan crisis through dialogue and maintaining the integrity of the country's territory.
This came in an interview conducted by Foreign Minister Sabri Boukadoum with Anadolu Agency on the sidelines of a meeting with his Italian counterpart Luigi Di Maio in Rome on Thursday.
Boukadoum said Algeria expects the "return of peace and stability as soon as possible to Libya with respect to the territorial integrity and legality as well as the free choices of the Libyans. This is what we expect and what we are working for."
Since April 2019, warlord Khalifa Haftar's illegitimate forces have launched attacks on the Libyan capital, Tripoli, and other parts of northwestern Libya, resulting in more than 1,000 deaths, including civilian women and children.
However, the Libyan government has recently achieved significant victories, pushing Haftar's forces out of Tripoli and the strategic city of Tarhouna.
Algerian mediation
Boukadoum stressed that Algeria maintains good relations with all Libyan sides and has an "an equal footing with all Libyans with respect to legality".
The top diplomat said that Algeria seeks to bring all Libyans together.
"We don't want to separate [the Libyans] or take any position that might jeopardize the territorial integrity, the future, peace and unity of Libya," he said.
"We hope that there will not be division and we are working for this," Boukadoum asserted. "Libya's division will be danger for everyone, specifically for the neighboring countries."
Algeria continues to work to maintain "the territorial integrity, unity and stability in Libya," the minister said. "These are absolutely essential to us."
The Algerian minister went on to assert his country's capability to protect its border with Libya, saying "there is no problem for Algeria on the military side."
He expressed his country's support for the outcomes of the Berlin conference, adding that Algeria was also cooperating with neighboring countries, Tunisia and Egypt, to exchange views regarding Libya.
UN special envoy for Libya
Turning to the UN, which has yet to name a special envoy for Libya following the resignation of Ghassan Salame, the Algerian minister said: "We're insisting on the appointment of a special representative of the secretary general as soon as possible."
Salame, a Paris-born Lebanese diplomat who assumed his post as UN special envoy to Libya in June 2017, resigned on March 2. He recently criticized the UN Security Council's position on the Libyan conflict, saying important member states had plotted to foil the country's peace process.
Boukadoum stressed that Algerian efforts are taking place as "the Libyans are calling on us, all the Libyans."
He also noted that Algeria has 1,000 (some 622 miles) kilometers long border with Libya and "cross-border families".
"We have a member of parliament in Algeria whose cousin is a member of parliament in Tripoli, so it means it's the same family, they're cross-border," he said, referring to the connection ties between the peoples of both countries.
Boukadoum pointed out that talks should not be limited only to Benghazi and Tripoli but to include southern Libya.
"We should not also forget the great south Libya, where there are thousands of families, tribes and traditions that you cannot distinct between Libyans and Algerians in these areas," he said.
"Beyond the question of the security of Algeria that we have to protect ourselves, we need to help them and all Libyans have asked us to do this role and we are ready of course," the minister said.
Boukadoum stressed that essential points to resolve the Libyan crisis are ensuring "a cease-fire, [enforcing] embargo on weapons and moving forward with the dialogue."
"There cannot be a military solution in Libya," Boukadoum said.
Relations with Turkey
Boukadoum stressed that Algeria enjoys good relations with Turkey and held many talks with Turkish officials, citing that Turkish President Recep Tayyip Erdogan had visited
Algeria and held talks on aspects of bilateral cooperation between the two countries.
Most of the Algerian media described Erdogan's visit as an important step in advancing economic relations between the two countries along with its role in addressing the Libyan issue.
In late January, Erdogan visited Algeria and met with his counterpart Abdelmadjid Tebboune and agreed to implement the results of the Berlin conference to achieve peace and stability in Libya.
"Our relations with Turkey are transparent, frank and good," Boukadoum said.