Four Palestinians Martyrs, Tensions Rise In Occupied West Bank and Gaza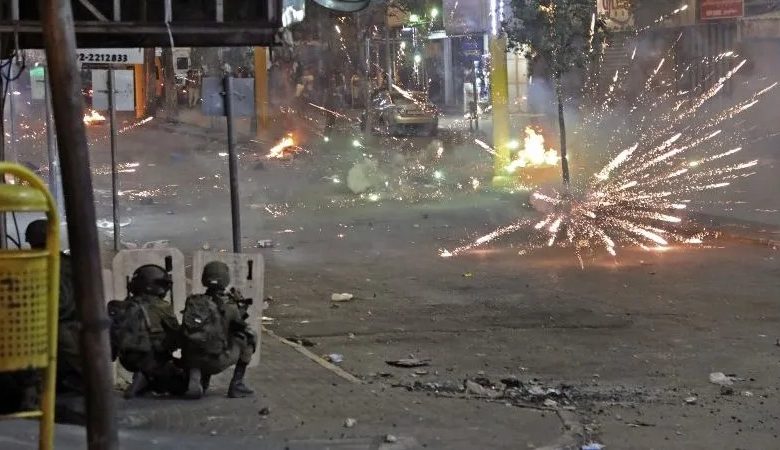 Four Palestinians Martyrs at least 10 others were wounded Wednesday overnight in Israeli occupation airstrikes across the besieged Gaza Strip.
Also Charred car tires, shards of glass and piles of rubble lie scattered on roads winding through the occupied West Bank, where one word in this Palestinian territory resounds — "resistance".
After intense protests in Israeli-annexed east Jerusalem and angry clashes at the Al-Aqsa mosque compound with Israeli police that left hundreds wounded, conflict escalated dramatically in Gaza last week.
Now residents of the West Bank, the territory controlled by the Palestinian Authority led by President Mahmud Abbas, have likewise resorted to angry protest, in a display of solidarity with besieged Gazans.
There are now more than 465,000 Jewish settlers in the West Bank — three times more than when the Oslo peace accords between Israel and the Palestinians were signed in the 1990s.
As the Israeli occupation onslaught entered its tenth day in Gaza, Israeli enemy warplanes targeted a house in the vicinity of Sheikh Radwan cemetery, north of Gaza city, killing a journalist and wounding two others. The casualties were rushed to al-Shifa Hospital.  
The occupation warplanes also pounded a house in Ash-Shuhada Street in al-Rimal neighborhood, west of Gaza city, killing three Palestinians Martyrs and wounding two others.
There was another aerial strike on Khaled Bin al-Walid Street in Bani Suheila town, east of Khan Younes, wounding another Palestinian and causing substantial destruction.
Other airstrikes hit the area surrounding the auto market in Zeitoun neighborhood, southeast of the city, as well as a site near Karameh Towers, northwest of the city, causing massive damage to the nearby civilian houses and property.
Another airstrike hit a house belonging to the Astal family in al-Katibah area of the city, reducing it to rubble.
Israeli occupation warplanes also targeted a site, west of Rafah city, and a charitable association in the city, completely destroying them and causing damage to the nearby civilian houses.
Meanwhile, intensive Israeli artillery fire targeted civilian houses and lands, east of Rafah city, as well as in al-Maghazi, Nuseirat and al-Bureij refugee camps and in Juhr Ad-Deek area, causing considerable damages to property.
Israeli aerial and artillery bombardment also targeted farmlands in Beit Lahia and Beit Hanoun towns in the northern strip, inflicting massive destruction to civilian property and setting a house ablaze in Shaymaa area, west of Beit Lahia.
The Palestinian Health Ministry said the overall death toll since the latest onslaught began reached 219 Martyrs, including 63 children, 36 women, 16 elderlies, and wounded 1530 others, mostly children and womens.
The Israeli military occupation has carried out hundreds of airstrikes on the coastal enclave, targeting what it alleged as military sites. However, the bombardment targeted and leveled multistory residential buildings, towers, houses, government institutions, media outlet offices, banks in addition to roads and other infrastructure across the strip.   
Two million Palestinians live the Gaza Strip, which has been subjected to a punishing by Israeli occupation blockade for 12 years and repeated onslaughts that have heavily damaged much of the enclave's infrastructure.
Gaza's 2-million population remains under "remote control" occupation and a strict siege, which has destroyed the local economy, strangled Palestinian livelihoods, plunged them into unprecedented rates of unemployment and poverty, and cut off from the rest of the occupied Palestinian territories and the wider world.
Gaza remains occupied territory, having no control over its borders, territorial waters or airspace.
Every two in three Palestinians in Gaza is a refugee from lands inside what is now Israel. That government forbids them from exercising their right to return as enshrined in international law because they are not Jews.