Four Schalke fans injured after violent attack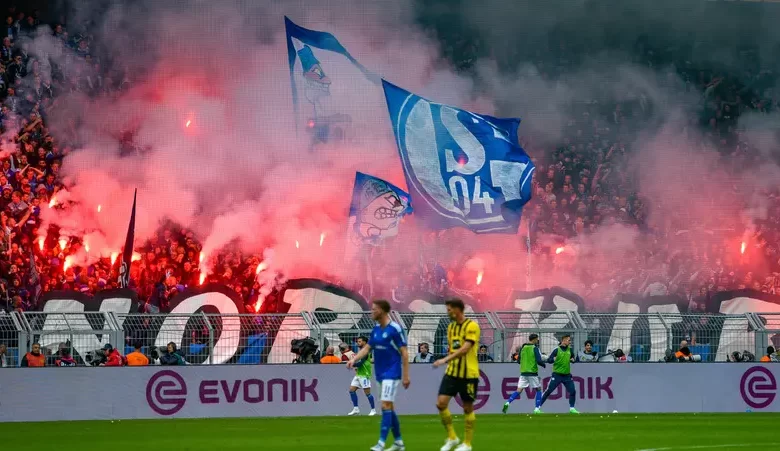 Four people were left seriously injured after a group of Schalke football fans were brutally attacked as they travelled to their club's Bundesliga away game against Union Berlin on Sunday morning, German police said.
The fans were about to board a bus in their home city of Gelsenkirchen when they were attacked by "at least 100 violent people assumed to be fans of Borussia Dortmund and Rot-Weiss Essen" police said in a statement.
"Baseball bats and screwdrivers" were reportedly used in the ensuing violence which left four people injured, including the bus driver.
Police in Gelsenkirchen said they had been alerted to the incident by several calls to the emergency services, but officers had only arrived on the scene after the attackers had fled.
The injured people were reportedly treated on site before being transferred to a local hospital.
The derby between Ruhr-based clubs Dortmund and Schalke is one of German football's most fiercely contested rivalries, while Dortmund fans have a longstanding friendship with lower-league neighbours Rot-Weiss Essen.
The attack comes after a series of violent incidents involving German fans in recent months.
In late January, Bayern Munich supporters were reportedly attacked by Eintracht Frankfurt fans at a motorway service station, while European games involving Frankfurt, Cologne and Union Berlin have all been overshadowed by violent scenes in the course of this season.
For Schalke, the trouble off the pitch comes at the worst possible time, as the club struggles to gain a foothold in a bitter relegation battle in the Bundesliga.
Currently seven points adrift of safety, the team are hoping to end an 11-game winless run against Union on Sunday.