France affirms its support for Tunisia economy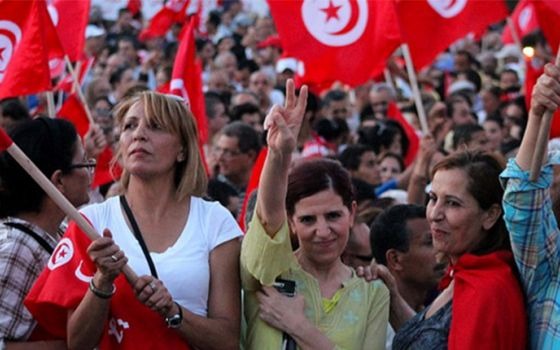 Tunisia's President Kais Saied Saturday affirmed that the reforms declared last December seek to preserve freedom and public funds, and achieve justice. This came during a telephone call conducted by Saied and his French counterpart Emmanuel Macron, a Tunisian presidential statement said.
People's sovereignty is the source of all authorities and none can make himself a legislator in line with the laws aiming to explode state's institutions, the statement said. He warned that there are some who are conspiring against their home, in cooperation with those who want to get money and undermine countries from inside.
Meanwhile, Macron affirmed his country's support to Tunisia, mainly in economy, and expressed his understanding of several issues and difficulties Tunisia is going through.
Last December, Saied announced what he called as a "national referendum" about some constitutional reforms on July 25, 2022, in addition to a number of legislative measures on Dec. 17, 2022.
He revealed organizing some "popular" consultations through the Internet as of this month on the reforms that should be added to the current political regime.
Saied assured Thursday that the country's freedoms are "guaranteed" after rights groups warned of a threat signaled by the violent suppression of an anti-Saied protest.
Civil society groups and Saied's political opponents have expressed fears of a return to authoritarianism in the only democracy to have emerged from the Arab Spring protests over a decade ago.
In a meeting with Interior Minister Taoufik Charfeddine, Saied said he "affirms that freedoms are guaranteed in Tunisia, recalling his commitment to equality before the law and his rejection of violence", the presidency's official Twitter account said.
Police on Friday cracked down heavily on hundreds gathered in a rally against a July 2021 power grab by Saied, which some have dubbed a "coup".
Officers backed by water cannons charged at demonstrators, fired tear gas, and made dozens of violent arrests.
The capital Tunis had not witnessed such scenes for a decade. About 20 journalists were manhandled during the protest, which fell on the 11th anniversary of late dictator Zine El Abidine Ben Ali's flight into exile.
An inquiry has been opened into the death of a 57-year-old man who was found unconscious during the protest. His death was described by the Islamist-inspired Ennahdha party as a "murder".
"It is clear that freedoms are threatened and face an imminent peril," Yassine Jelassi, head of the Tunisian National Journalists' Union (SNJT), told a press conference organized by 21 human rights groups on Tuesday.
"Since July 25, there is only one institution and one person who decides the future of this country, the future of the new generations, and until now we have not seen anything that lets us believe that there will be hope, that there will be changes", said the former lawyer and MP.
In Tunisia, a former lawyer and member of parliament denounced the political reforms desired by president Kais Saied. The comments by Bouchra Belhadj Hmida take place on the eve of the launch of a public consultation on the reforms.