France and U.K. Expected Coronavirus Lockdowns to Last Into Next Month
France will not start to reopen until next month, Macron says.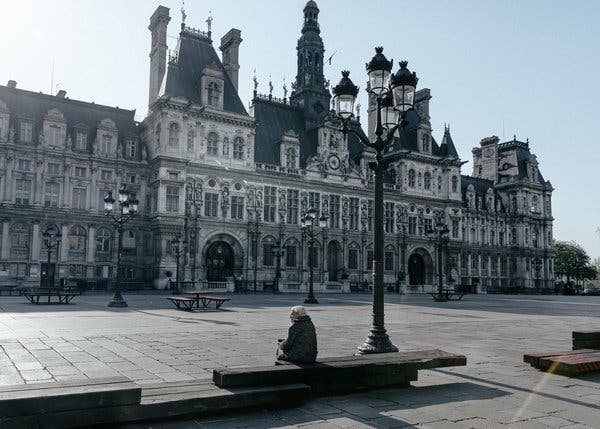 France President Emmanuel Macron said"The epidemic is not yet under control," But, he added, "hope is reborn."
Mr. Macron extended France's lockdown until May 11 but vowed that there would be enough masks and tests by then to start lifting some restrictions.
In his third solemn televised address since the epidemic began, Mr. Macron struck a delicate balance, as health authorities reported over 98,000 confirmed infections and nearly 15,000 deaths. He warned that the May 11 transition would only be possible if France continued to slow the epidemic, while promising that life would gradually return to normal.
"The epidemic is not yet under control," Mr. Macron said. But, he added, "hope is reborn."
He vowed that by May 11, the authorities would be ready to test and quarantine anyone with symptoms and that "general public" masks would be available for all.
Beginning on that date, daycare centers and schools will reopen, Mr. Macron said, but France's most vulnerable citizens, mainly the elderly, will have to remain confined, "at least initially." Many people will be allowed to return to work.
But many businesses, including restaurants, hotels, museums and theaters, will remain shuttered. And travel from non-European Union countries will remain banned "until further notice."
The number of patients in intensive care is declining, along with the rates of new infections and deaths, easing the strain on France's admired health system. Still, the government has come under criticism for a shortage of protective masks and a lack of widespread testing.
"Were we ready for this crisis? Evidently, not enough," Mr. Macron said. He acknowledged government errors, which he promised would be remedied. 
But he also touted successes like doubling the number of intensive care beds, and promised continued aid to affected people and businesses.
"When will we be able to go back to our prior life?" Mr. Macron asked. "Quite frankly, humbly, we have no definitive answer to that."
The virus has infected more than 1,857,000 people in at least 177 countries.
In a turnaround, Putin describes Russia's outbreak in bleak terms.
President Vladimir V. Putin of Russia offered his bleakest comments yet on his country's handling of the pandemic, warning officials on Monday that the number of severely ill patients was rising and that medical workers faced shortages of protective equipment.
"We have a lot of problems, and we don't have much to brag about, nor reason to, and we certainly can't relax," Mr. Putin told senior officials in a televised video conference that he conducted from his residence outside Moscow. "We are not past the peak of the epidemic, not even in Moscow."
Russia's total number of confirmed cases reached 18,328, double the level of five days earlier, with roughly two-thirds of them in Moscow. The number of deaths stood at 148 nationwide.
Moscow's health system in particular was under growing strain, and state television reported hours-long lines of ambulances waiting to admit suspected coronavirus patients into hospitals. The authorities tightened their lockdown on the city of 13 million people, directing residents to apply online for permission to leave their homes.
Mr. Putin's dour tone Monday was part of a sharp shift in Russia's official rhetoric on the crisis, with hope fading that the country might escape being hit hard by the pandemic. He directed officials to remedy shortages in medical workers' protective equipment and to share ventilators and medicine across Russia's far-flung regions to respond to geographic differences in demand.
"All scenarios of how the situation could develop must be taken into account, including the most difficult and extraordinary ones," Mr. Putin said.
Turkey's Parliament passes law to release tens of thousands of prisoners.
Turkey's Parliament passed a law early Tuesday that would allow for the release of tens of thousands of prisoners to protect detainees from being infected by the coronavirus.
The bill will allow for the temporary release of about 45,000 prisoners, but it excluded those jailed on terrorism charges, according to the Anadolu Agency, a Turkish state-run news agency.
The bill was supported by 279 lawmakers, while 51 voted against it, according to Anadolu. President Recep Tayyip Erdogan's political party, the Justice and Development Party, supported the bill, as did its nationalist allies.
Aside from those jailed on terrorism charges, prisoners detained for sex offenses, drug offenses and first-degree murder were also excluded.
The law has been criticized by opposition parties for excluding those jailed on terrorism charges, which include journalists and politicians swept up in a crackdown following a coup attempt in 2016.
Justice Minister Abdulhamit Gul on Monday said there were 17 cases of the coronavirus in five prisons, and that three inmates had died from the virus. Turkey has recorded 56,956 coronavirus cases and 1,198 deaths.
In the United States and around the world, outbreaks have spread quickly in prisons, where social distancing is impossible. In response, some prisons have released inmates to contain outbreaks, though critics say officials have been too slow to act.
Earlier this month, Attorney General William P. Barr ordered the Bureau of Prisons to expand the group of federal inmates eligible for early release and to prioritize those at three facilities where known coronavirus cases have grown precipitously, as the virus threatens to overwhelm prison medical facilities and nearby hospitals.