French Pension Reform: New Day of Protests Underway Ahead of Crucial Court Ruling
If the reform is approved by the Constitutional Council, it remains to be seen if unions will call more strikes, with momentum clearly waning and employees reluctant to give up on salaries for what seems like a losing battle.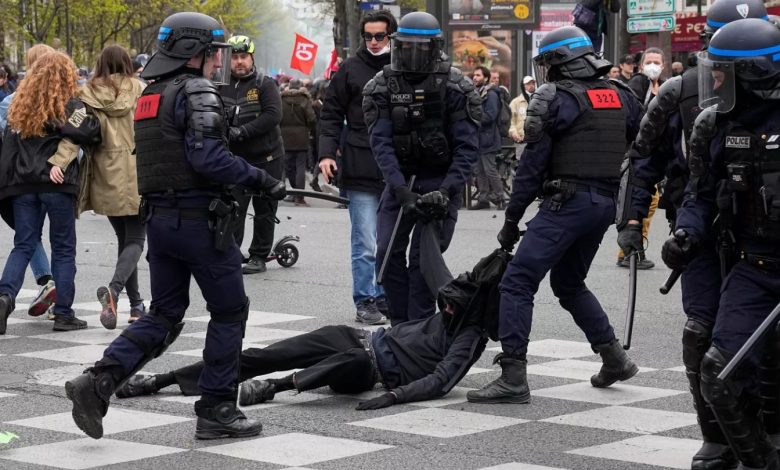 Hundreds of thousands of people took to the streets across France again on Thursday, April 13, to protest against President Emmanuel Macron's pension reform in a final day of demonstrations before a crucial court decision on the legislation.
Police were expecting around 400,000-600,000 people to take part nationwide, less than half of the peak of nearly 1.3 million reached in March at the height of the protests against the bid to raise the retirement age to 64 from 62.
In Paris, as thousands marched along the designated protest route, some protesters holding lit flares veered off to the Constitutional Council, which is to decide Friday whether to nix any or all parts of the legislation.
They faced off with a large contingent of police deployed outside the building, where hours before the march got underway other protesters had dumped bags of garbage. The trash piles were cleaned up but signaled the start of a new strike by garbage collectors, timed to begin with the nationwide protest marches. A previous strike last month left the streets of the French capital filled for days with mounds of reeking refuse.
Also before the main march, more than 100 railroad workers marched down a Paris street of luxury boutiques, invading luxury conglomerate LVMH offices and going to the first floor before exiting.
Early on in the main Paris protest, security forces intervened to stop vandals damaging a shop, with 15 people detained, police said. Like in past protests, several hundred "radical elements" had mixed inside the march, police said.
Thousands also marched in Toulouse, Marseille and elsewhere. Tensions mounted at protests in Brittany, notably in Nantes and Rennes, where a car was burned.
"The mobilization is far from over," the leader of the leftist CGT union, Sophie Binet, said at a trash incineration site south of Paris where several hundred protesters blocked garbage trucks. "As long as this reform isn't withdrawn, the mobilization will continue in one form or another."
Calls for new strikes
Most trains are running at state rail operator SNCF and the Paris public transport provider RATP, past bastions of strike participation. Meanwhile, the DGAC aviation authority has asked carriers to reduce flights to Nantes, Bordeaux and Toulouse airports by 20 percent – a far cry from past disruptions.
LE MONDE IN ENGLISH
Every morning, a selection of articles from Le Monde In English straight to your inbox
Sign up
But the hard-left CGT union has called for new strikes by refinery workers and rubbish collectors, whose walkout left the streets of Paris heaving with rubbish for three weeks in March. Workers blocked the entrance to the Feyzin refinery near Lyon for two hours early on Thursday before police intervened, the local prefecture told AFP. Others blockaded a rubbish incinerator outside Paris.
You can share an article by clicking on the share icons at the top right of it.
The total or partial reproduction of an article, without the prior written authorization of Le Monde, is strictly forbidden.
As on previous protest days, there were scuffles between police and protesters across the country, while demonstrators also stormed the headquarters of French luxury goods firm LVMH in Paris.
All eyes are currently on the Constitutional Council, the highest constitutional authority in the country, which is due to rule on the legality of the bill. "The decision from the Constitutional Council on Friday will bring an end to the democratic and constitutional procedures," Macron told reporters on a trip to the Netherlands on Wednesday, adding that public debate "will continue, for sure".
Read more
Article réservé à nos abonnés

French pension reform: Labor unions plan for renewed pressure ahead of Constitutional Council decision
If the Council issues a greenlight – and ministers are privately confident it will – Macron hopes to sign the changes into law immediately, clearing the way for them to enter into force before the end of 2023.
Having repeatedly snubbed calls for talks with union leaders in recent weeks, the 45-year-old said he would invite labor representatives for discussions once the court decision was published. "I know that traces of our current disagreements will remain, but I will do it (call for talks) in a spirit of concord and with the desire to look to the future, whatever decision is announced," he added.
If the law is approved, it remains to be seen if unions will call more strikes, with momentum clearly waning and employees reluctant to give up on salaries for what seems like a losing battle.
Depending on the court's decision, unions are weighing a call for mass demonstrations on Labour Day, May 1, either spread nationwide or concentrated in Paris.
"I'm proud of the French social model and I defend it, but if we want to make it sustainable we have to produce more," he said. "We have to re-industrialize the country. We have to decrease unemployment and we have to increase the quantity of work being delivered in the country. This pension reform is part of it."
Speaking in the Netherlands, Macron linked the pension changes to the need for France to control public spending and his larger agenda for closer economic ties between European Union members.