Galtier, rage and a reprieve after Paris Saint-Germain win in Nice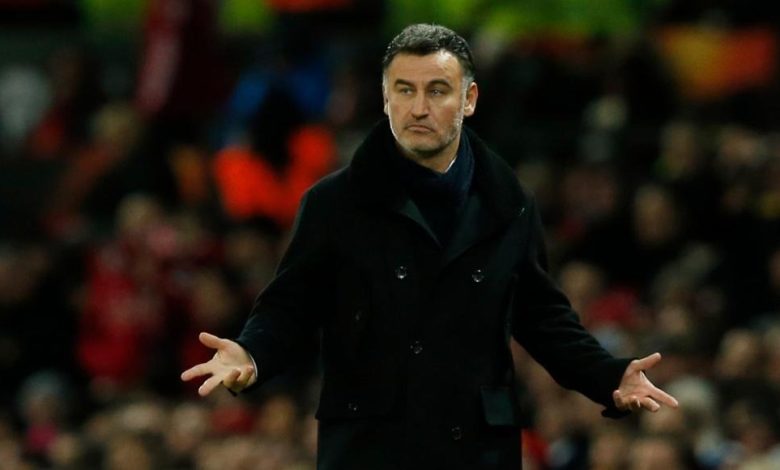 At full-time, with a 2-0 victory secured, Christophe Galtier marched onto the field and headed straight for Nice's Ultras, in their position behind the goal in the Populaire Sud stand. He was seething.
The Paris Saint-Germain coach got as far as the penalty area, then started to clap the Nice fans sarcastically, before raising both arms into the air and showing them all a thumbs up.
It threatened to spark an on-field eruption.
Nice's midfielder Khephren Thuram went over to question him, while opposite number Didier Digard hurried across to try to make sure the situation didn't boil over. Amid the turmoil, as Galtier was pulled away by a PSG staff member, he tried to explain to home defender Jean-Clair Todibo what he was doing.
"JC! Did you see the banner?" he said, his words picked up by French broadcaster Canal+. "What if that was for you?"
In the end, it was PSG sporting director Luis Campos who led Galtier away from the scene.
It was likely that there was going to be tension between Galtier and the Nice supporters, and he was whistled furiously when his name was read out before kick-off last night.
Galtier had left their club last summer; yes to manage PSG, but also after a fallout with Julien Fournier, the former sporting director, now at Italian club Parma.
His one-year tenure here on the Cote d'Azur ended with a fifth-place finish in Ligue 1 and qualification for the Europa Conference League, but also amid fraught tensions. The latter point was furthered by a new report on Saturday in local newspaper Nice Matin that suggested, among other elements to the unhappy nature of his departure, that Galtier asked his Muslim players not to fast during Ramadan, which led to a strong reaction from Todibo in a training session — he is said to have thrown a cone.
On Saturday, though, Galtier's rage stemmed from a banner raised by the Nice fans in the first half.
It read "Avant, après, la mama di Galtier" (Before, after, the mother of Galtier). Those same words were then chanted too, with some insulting remarks added. And that crossed the line for the PSG boss.
"My mum is 83 years old, she is recovering from cancer. Full stop," he said after the game. "It is thanks to my work last season that these people in the stands see European football (Nice are away to Basel of Switzerland on Thursday in the first leg of a Conference League quarter-final). Whatever people think, it's because of the work we did last season, and that of Didier, that there are still European cup matches in Nice."