George Floyd death: Violence erupts on sixth day of protests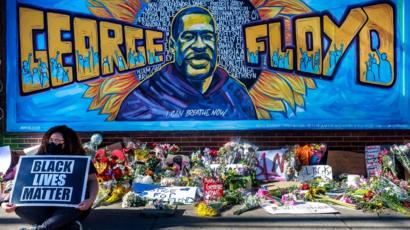 George George George George Violence has erupted in cities across the US on the sixth night of protests sparked by the death in police custody of African-American George Floyd.
Dozens of cities imposed curfews, but many people ignored them, leading to stand-offs and clashes.
Riot police faced off with protesters in New York, Chicago, Philadelphia and LA, firing tear gas and pepper bullets to try to disperse crowds.
Police vehicles were set on fire and shops were looted in several cities.
The country is experiencing the most widespread racial turbulence and civil unrest since the backlash to the assassination of Martin Luther King in 1968.
The outpouring of anger began last Tuesday, after a video showed Mr Floyd being arrested in Minneapolis and a white police officer continuing to kneel on his neck even after he pleaded he could not breathe and fell unconscious.
More than 75 cities have seen protests, with streets only days ago deserted because of coronavirus full of demonstrators marching shoulder to shoulder. Some US officials have warned of protest-connected virus outbreaks.
The Floyd case has reignited deep-seated anger over police killings of black Americans and racism. It follows the high-profile cases of Michael Brown in Ferguson, Eric Garner in New York and others that have driven the Black Lives Matter movement.
For many, the outrage also reflects years of frustration over socio-economic inequality and discrimination, not least in Minneapolis itself, where George Floyd died.
What happened in the latest protests?
About 16,000 troops from the National Guard – the US reserve military force for domestic emergencies – have been deployed to deal with the unrest across 24 states and Washington, DC, where crowds once again gathered near the White House on Sunday night.
Demonstrators lit fire to buildings there, including a historic church known as the church of the presidents, and threw stones at riot officers. Police used tear gas in response.
In Louisville, Kentucky, a man was shot dead in a confrontation between protesters, police and the National Guard after midnight. Shots were fired at police officers and guard troops as they moved to disperse a crowd in a car park and they "returned fire", leaving one man dead, Louisville Metro Police said.
As on Friday and Saturday, demonstrations that had been peaceful during the day again descended into violence as night fell.
Police vehicles were vandalised and set alight in several cities, while riot officers continued to respond with tear gas and flash grenades.
At least 4,400 people have been arrested in several days of protests, according to the Associated Press news agency, for offences including blocking motorways, looting and breaking curfew.
On Monday, President Trump told state governors in a video conference that they looked "weak", according to leaked audio obtained by CBS. "You have to dominate, if you don't dominate you're wasting your time," the president reportedly said.
A 19:00 curfew has now been imposed in Washington DC for Monday and Tuesday nights.
In Minneapolis, a lorry driver was arrested after reportedly breaching a road barrier before speeding towards a crowd of protesters marching along a major motorway. The driver was taken to hospital with minor injuries and later to the county jail.
There were no immediate reports of other casualties.
Minnesota's Governor Tim Walz said the motive of the driver was unclear, adding: "To not have tragedy and many deaths is simply an amazing thing."