Get ready for the toughest day in European football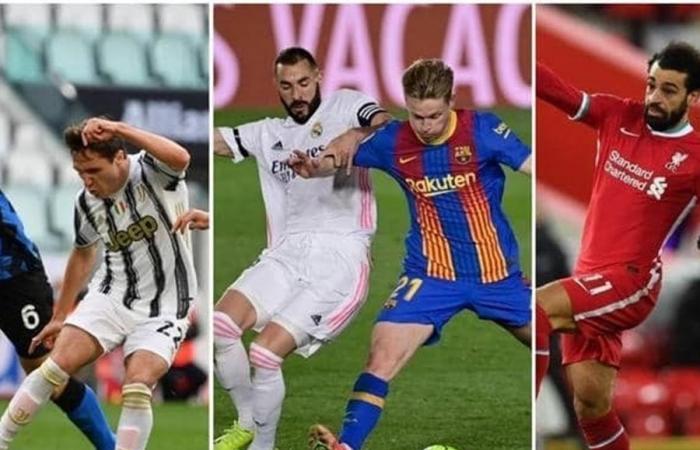 Next Sunday will be a football day par excellence, it may be the strongest football day this season, because it will include 4 European summits that should not be missed for football fans.
Next Sunday, October 24, the local leagues in Europe will witness 4 peaks in different parts of Europe, representing a "stormy" day for football that may carry major events.
classico
The start will be from the expected "El Clasico", between the poles of Spain, Barcelona and Real Madrid, in a position that has lost its luster since the departure of Cristiano Ronaldo and Lionel Messi, but it is still garnering huge global attention.
Barcelona hosts its opponent, Real Madrid, at the Camp Nou stadium, at 6:15 pm Abu Dhabi time, which is an early time, but it is suitable for the "Asian market".
England Summit
Then comes the English Premier League summit, between Manchester United and Liverpool, where Egyptian star Mohamed Salah seeks to continue to shine, when he faces Portuguese Cristiano Ronaldo.
This will be the first confrontation between Salah and Ronaldo, since their meeting in the Champions League final in 2018, when Salah suffered a severe shoulder injury that left him in tears.
The England match will be held at Old Trafford in Manchester, at 7:30 Abu Dhabi time, and will be the final round of the ninth round of the league.
fury derby
The star-studded French Paris Saint-Germain will face its opponent, Marseille, at the top of the French League, which is always witnessing a great charge by the fans of the two largest cities in France.
The match will be held at the Velodrome Stadium, Marseille Stadium, at 10:45 pm Abu Dhabi time, and it is expected that Lionel Messi and his colleagues will face a hostile public atmosphere during the expected meeting.
Italy derby
In Italy, the struggling Juventus will face its rival, champions Inter Milan, in Italy's first summit, as experts consider it.
Inter will host their opponent, Juventus, at 10:45 Abu Dhabi time, at the Giuseppe Meazza Stadium, in a position of self-proof.