Ghaith al-Omari: "Mahmoud Abbas has worked to weaken all potential candidates for his succession"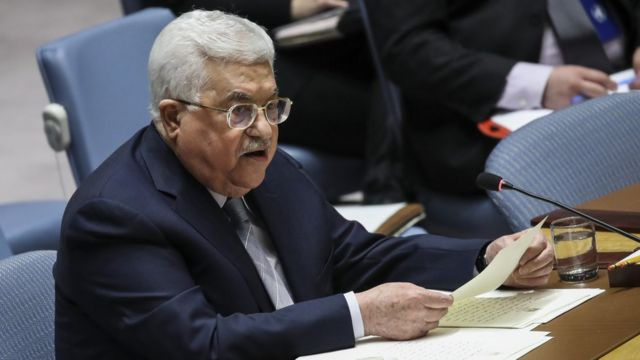 Passing through Paris, the former Palestinian negotiator and lawyer specializing in human rights Ghaith al-Omari, a fervent defender of the two-state solution, granted an interview to France 24.
This second part is devoted to the situation in the West Bank and the future of the Palestinian Authority, which Mahmoud Abbas has presided over for 18 years.
A lawyer specializing in human rights and a prominent researcher at the Washington Institute for Near East Policy think tank, Ghaith al-Omari is a recognized player in the Israeli-Palestinian peace process, which has stalled since 2014.
The former Palestinian negotiator, notably at the Camp David summit in 2000 and at the Taba talks in 2001, and former adviser to Palestinian Authority President Mahmoud Abbas until 2006 was in Paris in March for the presentation of the project "Whispered from Gaza", a series of animated short films, at the National Assembly.
The opportunity for Ghaith al-Omari to grant a long interview in France 24. After addressing the disarray of Palestinian youth, he addresses in this second part the political situation in the occupied West Bank and the future of Palestinian leadership as President Mahmoud Abbas has been in power for 18 years in Ramallah.
The last Palestinian presidential election took place in January 2005 and the last legislative elections in January 2006.
Ghaith al-Omari: The inhabitants of this territory face a political and security vacuum that pushes them to abandon their government and their institutions and to turn to other actors.
For example, courts in the West Bank are so underfunded that it takes years to get a judgment. Et if you end up getting one, then it takes years to get it applied.
People no longer turn to the authorities to solve their problems, which contributes to the disintegration of power and the loss of its legitimacy.
In every city, in every governorate in the occupied West Bank, people are taking matters into their own hands because the official authorities cannot ensure their safety.
This is what partly explains the emergence of small armed groups on this territory. In some areas, such as Jenin, it is Islamic Jihad [un mouvement islamiste radical armé, NDLR] which, alongside other small groups, dominates the field.
In Hebron, in the south, calm is mainly maintained thanks to the action of tribes and clans. This loss of control and legitimacy of the Palestinian Authority feeds and illustrates its great political weakness.
Gold, when institutions and government are weak, the slightest shock can cause the entire system to collapse.
And some fear that when Mahmoud Abbas leaves the scene, either because of his advanced age or for political reasons, he will leave a void behind him. A void he helped to create. In such a scenario, the possibility of the Palestinian Authority collapsing becomes even more serious.
Are there no leaders who would be able to succeed Mahmoud Abbas??
Palestinian political life was never democratic, but it was lively and active. Today, all this no longer exists : this political space closed and President Abbas and his entourage systematically sought to undermine the image and authority of every leader who began to become popular.
Throughout Yasser Arafat's tenure, there have always been two or three potential candidates for his succession, including Mahmoud Abbas.
But today, it is impossible to name a favorite because the president has worked to weaken all potential candidates for his succession.
In short, all those who disagree with him end up being dismissed. I can for example mention the name of Mohammed Dahlan [ancien chef de la sécurité à Gaza, en exil dans le Golfe, NDLR], who was expelled from Fatah's central committee ten years ago, or that of Nasser al-Qidwa, nephew of Yasser Arafat, who was also dismissed.
There are currently at least ten personalities aspiring to the presidency, but none of them are strong enough politically or have enough popularity or support to pull away.
In the absence of strong or legitimate candidates, the competition between them can go awry.
We know that there are many weapons circulating in the occupied West Bank and that a number of potential successors are recruiting supporters, which lends credibility to the prospect of a long and violent process.
In your writings, you draw a severe balance sheet of the Abbas era. Including the diplomatic strategy that pushed the Palestinian Authority to seek full sovereign status at the UN.
I am not the only one to draw such a harsh conclusion. According to recent polls conducted by the Palestinian Center for Policy and Survey Research, about 80 % of Palestinians think the Palestinian Authority is corrupt and 80 % think that Mahmoud Abbas must leave. 
This last is very much identified with the peace process, since he is one of those behind the Oslo Accords and those who signed them (in 1993, editor's note). But the failure of this process made it lose this source of legitimacy.
When the peace process failed, the Palestinian Authority tried to make itself useful by going to the UN.
But there are two problems with this approach : firstly, it cannot really succeed because, to join the UN, the Security Council must vote for you.
But the the United States, which is a permanent member, has always been very clear that they would not allow this to happen.
Not to mention that the Palestinian Authority did not want to adopt a compromise position in 2011, when it asked to become a member of the UN.
France, as a permanent member, and Jordan, as an Arab member, tried to convince the Palestinians to relax the resolution so that they could pass, but they refused and the initiative therefore failed.
The second problem is that even when it succeeds, the Palestinian Authority having joined some UN agencies, it creates excitement the day the news comes, but it does not change the reality of daily life for Palestinians.
Most of them do not believe that these initiatives bring them anything. The Palestinian Authority continues to do this because it has nothing else to do, except that it no longer has the same resonance in the territories and no longer captures the imagination of the Palestinian public.
You were one of Mahmoud Abbas' close advisers. Why did you decide to leave your post in 2006 ?
Many of us have rallied in the past to Abu Mazen (nickname ofe Mahmoud Abbas, Editor's note) because we had the feeling, when he was Prime Minister of Yasser Arafat, that he was a leader committed to reform, non-violence and diplomacy.
When he became president (in 2005, Editor's note)he remained engaged – and it still is today – in the way of non-violence and diplomacy. But we realized that he was not a reformer or pro-reform. Mahmoud Abbas also turned a blind eye to the corruption that still plagues the Palestinian Authority today.
I decided to leave when I clearly saw that he was trying to sabotage the work of Salam Fayyad, his prime minister at the time.
The latter was a reformer who had the potential to create a clean and efficient Palestinian government and to start building a real economy.
Could this chaotic situation in the occupied West Bank benefit Hamas? ?
Hamas is doing all it can to encourage an explosion in the occupied West Bank and a collapse of the Palestinian Authority, which it daily accuses of treachery.
The movement in power in Gaza believes that if the Palestinian Authority collapses, it will be the last one standing and will therefore become the only interlocutor of the international community and the region.
Hamas does this in several ways, such as having its cells in the West Bank carry out terrorist attacks.
We know this from the daily reports of the dismantling of such cells in the territory. Hamas is also trying to financially support some of the armed groups, such as "The Lion's Den" in Nablus.
In the past, Hamas only paid money to its own members and supporters, but today it is willing to fund anyone willing to shoot, thinking it will help create a mess. can benefit him.
Two years ago, during the month of Ramadan, the movement launched a war with Israel. I think that at the time, Hamas had made its calculations, hoping that the conflict would end up destabilizing the West Bank.
Finally, even if it does not want a war in Gaza which could weaken it, Hamas would be ready to provoke a confrontation with Israel, in particular during Ramadan, if it considers that it will have repercussions on the Occupied West Bank.